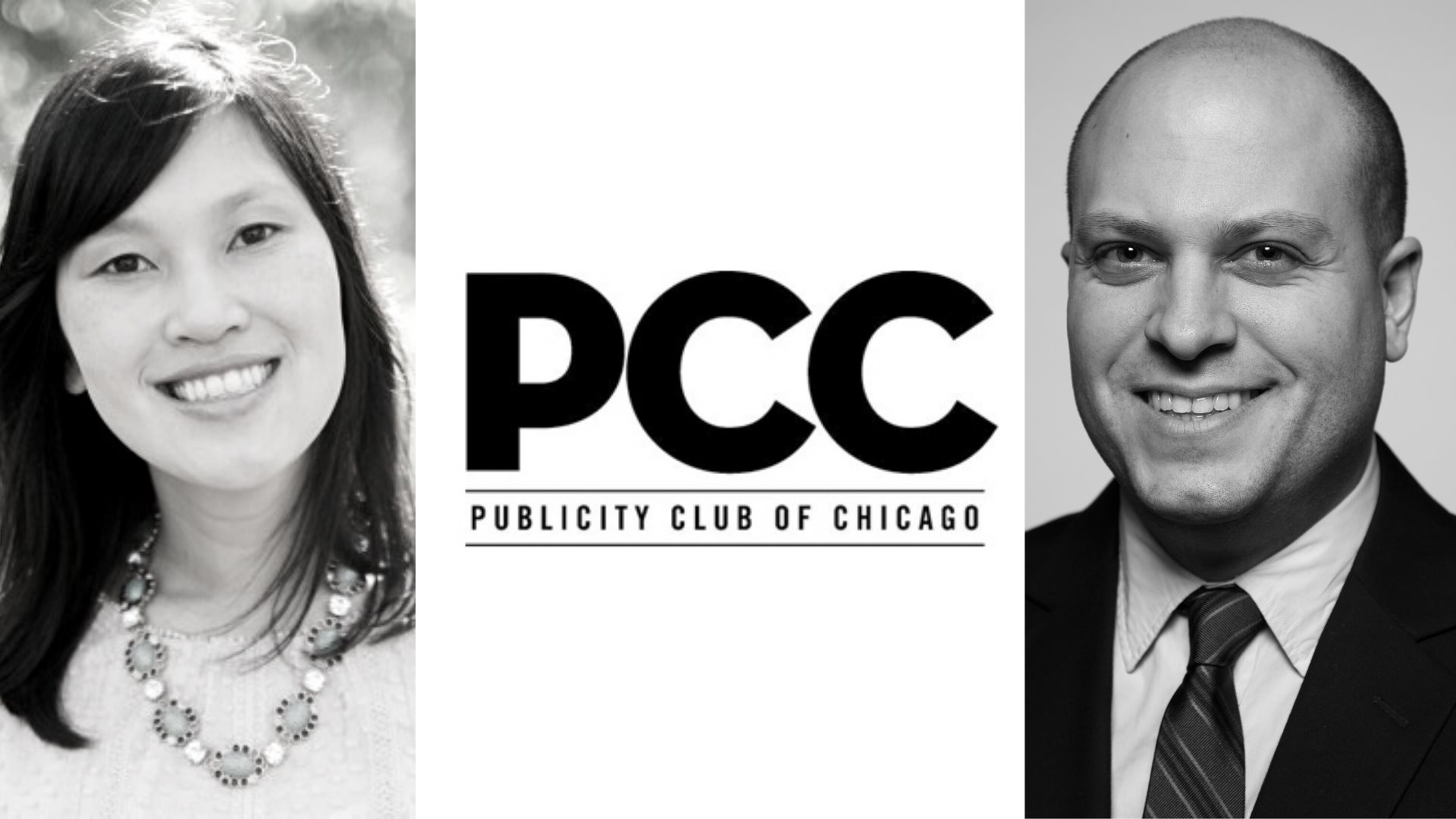 Event Details
Date
Wednesday, Jun 3, 2020
Time
12:00 PM to 1:00 PM
Location

A link to the webinar will be sent to those that register on the morning of the webinar


see map
Register
Register


Seating is limited
$Free Member
$Free Non-member (Join now!)
a webinar with Whaewon Choi-Wiles and Mike Sacks
The 2020 Publicity Club of Chicago Luncheon Series is sponsored by
News Exposure

Are all brands working the same brief? How do you stand out when we're all trying to address the same problems?
Join Whaewon Choi-Wiles and Mike Sacks from FleishmanHillard to determine if your brand can become a first mover and leave a lasting imprint on consumers and culture. Together, we'll discuss which topics are saturated, what's trending today and what's the next opportunity for brands to make a difference.
Speaker Bios
Blending more than 15 years of advertising, marketing and digital communications experience, Whaewon Choi-Wiles is the brand practice lead at FleishmanHillard Chicago and leads multi-disciplinary teams in building and protecting some of the world's most iconic and innovative brands.
With an emphasis on today's changing media climate and the elusive millennial audience, Ms. Choi-Wiles is helping to evolve the agency's strategic models to deliver impactful and integrated communications so clients can show up in new and unexpected ways through meaningful brand positioning, unique storytelling and inspired creative thinking.
Ms. Choi-Wiles has led the Lowe's consumer brand work, helping to reposition the company as a relevant and stylish destination for young homeowners. She is also an architect of AT&T's Business Solutions offering, shaping a strategy to humanize the company's shift from wireless provider to technology powerhouse with state of the art Internet of Things, Smart Cities infrastructure and the power of AT&T's network. Additionally, her work building Udi's Gluten Free Foods fueled the $5 Billion gluten-free industry and took the company from $25 Million to $250 Million in sales in three short years. Today, she leads the Hershey's account with recent record-breaking success on campaigns surrounding work for Reese's and Twizzlers.
Ms. Choi-Wiles's client roster has included Fortune 100 brands including AT&T, Lowe's, Chevrolet, Google and Tyson Foods. She has also worked with start-ups and challenger companies that keep big brands up at night including Udi's Gluten Free Foods, Omission Beer and Perfect Bar.
Ms. Choi-Wiles is a 2016 recipient of PRWeek's 40 Under 40 as well as FleishmanHillard's highest internal honor – the John D. Graham Award for Excellence. Before coming to FleishmanHillard, she previously worked at Adamson Advertising, a boutique creative agency in St. Louis. She holds a bachelor's degree in communications with a minor in sociology from the University of Missouri.
Mike Sacks has helped some of the world's most recognized companies build their reputations across industries like financial services, technology and health care, and helped them protect their reputations in the most urgent circumstances. He leads the Chicago reputation practice and the agency's global work with CDW and Abbott, and is a member of FH's newly established Recovery & Resurgence Practice, created to help clients navigate the aftermath of COVID-19.
Mike's all about helping organizations find their leadership voice and use it to drive business results, engage stakeholders in more meaningful ways, and create more durable competitive advantage.
Previously, he helped communicate the split of HP into two companies, drove issues management strategy for Bank of America and Merrill Lynch at the height of Occupy Wall Street, supported US response for an airline during an unprecedented aviation accident, and drove the communications strategy for one of the largest beef recalls ever.
He has also served a year-long secondment with the University of Chicago Medicine as its interim Chief Marketing & Communications Officer, overseeing all aspects of the department's activities and serving on the executive committee. During the appointment, he restructured the department, launched a new brand strategy, and drove new communications initiatives to differentiate the system and engage its community.
A former (not very talented) Golden Gloves boxer and failed novelist, Mike has a B.A. from James Madison University and an M.A. from American University. He lives in Chicago with his wife and two children.
---
Location Map