Golden Trumpet Awards
Since 1959, The Publicity Club of Chicago has sponsored the Golden Trumpet Awards — the most prestigious awards program in the Midwest. The Golden Trumpets honor distinguished individual achievement of public relations and communications. These coveted awards are presented for excellence in planning, creativity and execution, and are awarded during a dinner featuring notable keynote speakers such as 39th president Jimmy Carter, Playboy CEO Christie Hefner and Tribune CEO Tony Hunter.
We will be celebrating the 61st Golden Trumpet Awards on Thursday, September 10.
61st Golden Trumpet Awards
The Publicity Club of Chicago thanks everyone that entered the 61st annual Golden Trumpet Awards -- the most prestigious awards program for Chicagoland public relations professionals, honoring distinguished individual achievement in public relations, marketing and communications campaigns and events. The coveted Golden Trumpet Awards are presented for excellence in planning, creativity, execution and results measurement.
NEW: Nominations for PCC's 2nd Annual 30 Under 30 competition are now open. Click here or on the image below to learn more and make your nomination today.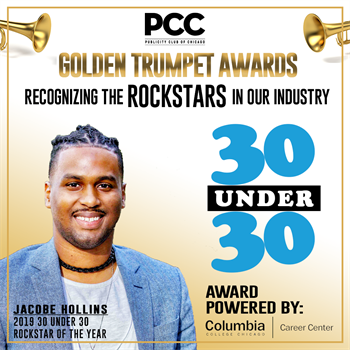 Member Testimonials
The PCC webinars are great! Each one is packed with useful information from industry experts. We can't help but be smarter and better informed at the end of the sessions. I've made the PCC webinars a regularly scheduled part of my work week and consider these a significant part of my continuing education platform.
Ric Bachrach
Celebrity Focus, Inc. / CEO
As a long-time member of PCC, I have always appreciated the networking and professional development opportunities provided by this outstanding organization.
Kathrynne Skonicki
Lewis University / Executive Director for Public Relations and Communications
PCC has been my go-to organization for networking, professional development and celebrating our
industry. I encourage all my employees to take advantage of their exciting and innovative programming.
David Zapata
Zapwater Communications / 20-year Member