Golden Trumpet Awards
Since 1959, The Publicity Club of Chicago has sponsored the Golden Trumpet Awards — the most prestigious awards program in the Midwest. The Golden Trumpets honor distinguished individual achievement of public relations and communications. These coveted awards are presented for excellence in planning, creativity and execution, and are awarded during a dinner featuring notable keynote speakers such as 39th president Jimmy Carter, Playboy CEO Christie Hefner and Tribune CEO Tony Hunter.
We will be celebrating the 61st Golden Trumpet Awards in the Summer of 2020.
61st Golden Trumpet Awards
Call for Entries Deadline Extended to Friday, May 29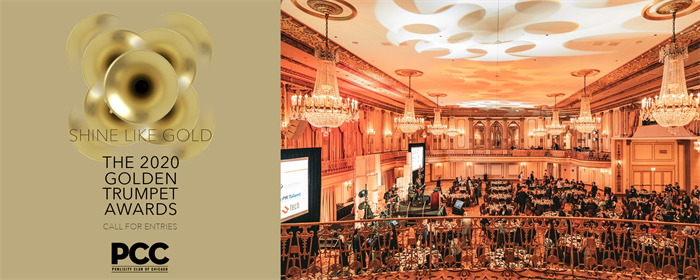 The Publicity Club of Chicago invites you to enter the 61st annual Golden Trumpet Awards -- the most prestigious awards program for Chicagoland public relations professionals, honoring distinguished individual achievement in public relations, marketing and communications campaigns and events. The coveted Golden Trumpet Awards are presented for excellence in planning, creativity, execution and results measurement. PCC uses a system that allows entries to be submitted and judged online-- making entering (and judging) fast and convenient.
VISIT THE GOLDEN TRUMPET AWARDS PORTAL TO START YOUR ENTRY
ELIGIBILITY
The Golden Trumpet Awards are open to:
All public relations, communications and marketing practitioners, self-employed or retained by companies or organizations doing business within 500 miles of Chicago

Professionals outside of this geographic area who handle public relations, communications and marketing assignments for entities within the Chicagoland Area.

Membership in Publicity Club of Chicago is NOT required, but PCC members receive discounts on entries and gala tickets. To become a member, contact the PCC office at office@publicity.org or 773-463-5560.

STUDENT ENTRIES: Students currently enrolled in a college or university public relations curricula at the time of submitting their entry may enter the Golden Trumpet Awards at the student rate. The same rules apply to student entries. A ceremony honoring the student winners will be held at the start of the Golden Trumpet gala.
ELIGIBILITY PERIOD
Entries being entered must have been conducted between January 1 and December 31, 2019. Activities initiated prior to January 1, 2019 with results extending into 2020 are eligible.
DEADLINES
Regular deadline: All entries must be finalized and submitted online prior to Friday, May 29, 2020 at 5:00 PM CST.
CATEGORIES
There are 26 categories. Business, government, education, trade association, nonprofit programs may be entered in any appropriate category. A full program may be entered in only one category. Individual components of any full program may also be entered in another category. Judges reserve the right to select a more appropriate category.
ENTRY FEES
The Golden Trumpet Awards Committee kept entry fees the same as they were last year:
ONLINE ENTRY PROCESS
Entries will be accepted online only. Please follow the instructions for your online entry carefully. Failure to do so may result in disqualification.
JUDGING CRITERIA
Each category will be judged by a panel of expert communications professionals – veterans in their fields.
Entries will be evaluated on the planning, execution, and accomplishment of marketing and communications objectives, placing a high value on creativity and demonstrated results. Each entry is judged on standards of excellence. More than one Golden Trumpet and one Silver Trumpet may be awarded in each category. If no entry in a category is deemed worthy, no award will be granted.
Judges follow strict procedures and each entry is judged by at least two judges. To protect the integrity of the awards program, no judge reviews any category in which he/she or his/her agency or company has entered. The judges for the Golden Trumpet Awards are distinguished public relations professionals representing leading organizations in the agency, corporate, government and not-for profit sectors.
Each entry is judged on its own merits. Entries are not judged against each other. Each entry will be judged on a 100-point system as defined below:
Objectives (maximum of 20 points):
How well does the entry describe the factors in the marketplace or organization that created the need for this project, and then, do the objectives provide a specific, detailed explanation of the objectives that guided the development of the project?
Techniques (maximum of 20 points):
What techniques, methods and approaches were used to address the objectives and solve the problem? If this is a single-item entry from a campaign, the single-item should provide enough explanation of strategic and tactical considerations, so that the content from which the single item evolved is clear.
Creativity (maximum of 20 points):
What creative initiatives or creative use of techniques, methods or approaches were used to achieve the objectives?
Results and ROI (Return on Investment) (maximum of 20 points):
Do the narrative and supporting material provide both quantitative and qualitative documentation of the success of the project, such as inquiries or sales generated, media coverage achieved, brand reputation enhanced/saved, feedback from company or client that objectives were met or surpassed? Did the project "move the needle" or achieve something that was not previously achieved? The results should be measurable beyond "media impressions" to verify that achievements/goals were met.
Quality of Entry (maximum of 20 points):
Overall excellence in writing and presentation of the entry and work submitted should be evaluated. What makes this entry worthy of a Gold or Silver Trumpet? How did the entry or campaign maximize results through solid, tactical PR work, use an innovative approach or achieve results that exceeded expectations?
Additionally, each entry must have a short title and description.
Please note: Sloppiness or excessive typos or narrative that do not address the above criteria are grounds for disqualification.
DISQUALIFICATION
Entries failing to follow the guidelines and requirements outlines in the Call for Entries will be disqualified. Absolutely no refunds will be given.
ARE MULTILINGUAL CAMPAIGNS WELCOME?
PCC encourages the submission of multilingual campaigns. Accompanying English translations are required.
Winners will be notified no later than Wednesday, June 17, 2020.
Categories
1 - Advocacy
2 - Annual Reports
3 - Community Relations
4 - Content Marketing
5 - Corporate Social Responsibility
6 - Crisis Communications
7 - Integrated Marketing Communications
8 - Internal Communications
9 - International Campaigns
10 - Marketing - Branding
11 - Marketing - Consumer/Lifestyle
12 - Marketing - Financial Services
13 - Marketing - Food & Beverage
14 - Marketing - Healthcare/Medical
15 - Media Relations - Business to Business
16 - Media Relations - Business to Consumer
17 - Media Relations - Corporate
18 - Media Relations - Nonprofit
19 - Multi-Cultural Campaigns
20 - Public Affairs
21 - Publications - Digital
22 - Publications - Printed
23 - Social Media
24 - Special Events and Observances
25 - Video
26 - Websites
Entry Tips
1. Select the most appropriate category. *If you have questions about in which category your entry belongs, please contact office@publicity.org or 773-463-5560. The Golden Trumpets Awards Committee reserves the right to reassign entries to other categories based on content.
2. Create a descriptive title of no more than five words for your entry.
3. Write a 20-25-word summary of the program.
4. Describe the program in a Narrative of 1,000 words or less. Organize the Narrative in sequence to respond to these judging criteria:
* Research used in order to identify objectives and strategy. Clearly state objectives of the program in this section.
* Techniques used to attain objectives.
* Creativity.
* Measurable Results.
* Your Narrative should include a detailed program budget of all out-of-pocket and production expenses required to prepare and implement the entire program. Salaries and fees for professional PR services do not need to be included.
* Include documentation that shows the creativity, scope and results of the project. Supporting documents may include, but are not limited to, publications, media clips, video, research plans/reports, and relevant advertising materials.
Member Testimonials
I found my first internship by volunteering at the PCC Golden Trumpet Awards dinner! This gave me the experience and confidence I needed to land my first job in PR communications.
Courtney Gillen
Uproar PR / Assistant Account Executive