Golden Trumpet Awards
The 62nd Annual Golden Trumpet Awards
Thank you to those that participated and attended in the 62nd Annual Golden Trumpet Awards! We hope you enjoy some additional materials for this year's celebration.
2021 Golden Trumpet Awards Press Release
Interested in Ordering Duplicate Awards?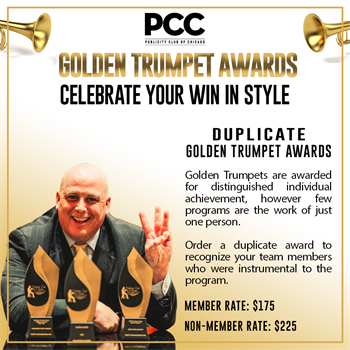 Golden Trumpets are awarded for distinguished individual achievement, however few programs are the work of just one person. Order a duplicate award to recognize your team members who were instrumental to the program. You can choose customized text for the inscription on the duplicate award.
Member Rate: $175
Non-member Rate: $225
Specialty Award Rate $250
The final deadline for ordering duplicate Golden Trumpet Awards is Friday, July 16 at 5:00 PM CST.
Member Testimonials
PCC has been my go-to organization for networking, professional development and celebrating our
industry. I encourage all my employees to take advantage of their exciting and innovative programming.
David Zapata
Zapwater Communications / 21-year Member