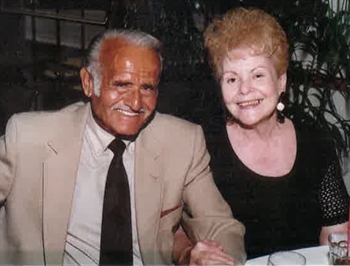 Dominic and Elizabeth Frances Calabrese
Remarks Honoring Elizabeth Frances Calabrese - March 8, 2019
Good morning. On behalf of my entire family, we thank you all for coming to pay your respects and honor our Mom. I'd like to say a few words about this beloved woman who touched so many.
Devoted daughter and sister; loving wife and mother; doting grandmother and great grandmother. Considerate friend.
My Mom has played many roles in her rich 87 years. However, she will be best be remembered for the love she showered upon her family and the kindness she showed everyone she met.
Born in Chicago during the depths of the Great Depression, Mom had a very poor childhood. She often told us that she went to bed hungry and woke up hungry. Her childhood was further marred by the death of her Tennessee born father, Frank Maness, who perished in an automobile accident when Mom was only three.
Not only did she lose her dad in a tragic accident, but she never knew his family. They had roots in America going back several generations to at least the 1700s and Mom had great-great grandparents who were settlers in North Carolina. So she had a distinguished pedigree. That is something most people didn't know about her that I wanted to share with you this morning.
Though losing her dad, Mom was blessed with a strong-willed Irish-Catholic mother, Margaret, who successfully raised her and her sister, Rosemary, through the darkest days of the Depression. Margaret subsequently remarried. Her second husband was Nicholas O'Brien and they had three children: Eileen, Kathleen and Geraldine. Mom grew very close to her step-dad as well as to her half-sisters and often said that she considered them full-fledged siblings.
Following graduation from high school, Mom had a number of jobs and boyfriends! Her stunning good looks often drew comparisons to Kathryn Grayson, a top Hollywood star of the 1940s and 50s. In 1951, at the tender age of 20, Mom was swept off her feet by a dashing Italian-American, our dad Dominic Calabrese, a World War II veteran who won a Purple Heart for his gallant service. The young couple settled on Chicago's northwest side and had three children, myself and my brothers, Samuel and Joseph.
Mom, who was scarred by the poverty of the Great Depression, was determined to give us as good an upbringing as possible. She always saw to it that our Christmases and birthdays were extra special. She also taught us the value of a good education. We got the message and each of us became teachers. When Sam and Joe married and brought her grandchildren, Mom gave them, as well as her daughters-in-law, the same kind of love and affection she gave her sons.
Her kindness was not limited to her family. Mom treated everyone she met with dignity and respect. She had compassion for those who were less fortunate or had to endure great struggles, A favorite cause of hers was helping individuals who are blind at The Chicago Lighthouse, one of the city's top social service agencies, where I serve as senior vice president of public relations. Mom also supported disabled Veterans and organizations helping animals who were mistreated.
Those of us who were fortunate to know her were enriched. She definitely made the world a better place.
We are poorer without her! To honor this very special lady, our family is asking that any donations made in her memory be directed to The Chicago Lighthouse. There are also plans to establish scholarship awards in her honor to provide deserving students with the chance to receive a college education, which she was never able to do.
We will never forget you, Mom! You will stay in our hearts and minds forever! Now you are in heaven as God's newest angel!