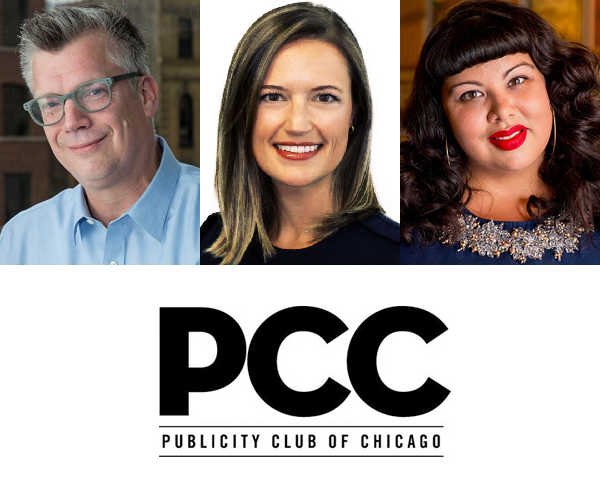 Event Details
Date
Tuesday, Nov 5, 2019
Time
8:00 AM breakfast/8:30 AM program
Location

Burson Cohn & Wolfe




222 Merchandise Mart Plaza, Suite 250




Chicago

,

IL

60654


see map
Register
Register
$Free Member
$25.00 Non-member (Join now!)
Have you ever thought about going to the "dark side" to pursue a career in public relations? This is your chance to learn about the PR industry and get inside tips from former journalists who have made the leap. Topics addressed will include what a PR career entails, which journalism skills transfer and which might not, how to leverage your network, PR "myth busting" and more.
Panelist
Laura DiSpirito Booth, Senior Account Supervisor, Public Communications Inc.
Monique Garcia, Vice President of Public and Media Relations, Mac Strategies Group
Moderator
Eric Benderoff, Senior Vice President, Burson Cohn & Wolfe
Speaker Bios
Eric Benderoff is senior vice president of brand solutions at Burson Cohn & Wolf in Chicago. He is known for high-stakes media relations, crisis management and journalistic leadership with expertise in content development, message strategy, editorial writing and brand awareness. He is a media strategist for several key BCW clients—including Accenture, Bank of America and Ford—as well one of the agency's preferred executive media trainers.
Benderoff is a former journalist with two decades of top-tier newsroom experience and brings a working understanding of modern news gathering to his communications strategies. Before joining BCW, Benderoff worked at the Chicago Tribune as a business editor, columnist, reporter and feature writer specializing in the intersection of technology and culture.
As the Tribune's personal technology columnist, Benderoff's work was distributed to national newspapers and countless consumer-focused websites. He discussed technology trends each week on Chicago's top morning drive radio show, hosted a weekend cable TV segment and appeared regularly on Chicago public television. At the Chicago Sun-Times, he was the business editor responsible for the development and introduction of the paper's daily technology coverage. For several years, he served as the paper's real estate editor and for three weeks, its fashion editor.
Benderoff serves on the school's Professional Advisory Board for the Public Relations and Advertising department and is the former chairman of his Local School Council for Chicago Public Schools. He has received a number of PR and journalism awards both individually and as part of BCW client teams.
Lauren DiSpirito Booth is a Senior Account Supervisor at Public Communications Inc. (PCI) in Chicago, where she develops and executes strategic programs on behalf of conservation and nonprofit clients. Whether counseling a client through a crisis or creating a strategy to reposition them in the marketplace, Lauren keeps a close eye on the details that matter most to clients and is diligent in helping them achieve their communications goals.
Lauren manages the day-to-day activities and provides strategic counsel for a diverse portfolio of clients, including ZooTampa at Lowry Park, Chimp Haven and The Marine Mammal Center. Her storytelling expertise and counsel on video strategies has elevated PCI's implementation of video into more client programs.
As a former journalist, Lauren has reported and anchored for broadcast news stations around the country. At CBS Denver (KCNC-TV) she was responsible for managing the station's northern news bureau before moving on to covering live breaking news daily for the early morning and late evening newscasts. In Florida and Georgia, she was recognized for her ability to develop sources and deliver exclusive reporting on crime, environment and education stories. Lauren began her career as an assignment editor at NBC Philadelphia (WCAU-TV) where she facilitated coverage of the 2008 presidential election.
Lauren has a Bachelor of Arts in communication from Villanova University and studied integrated marketing at the University of Chicago. Lauren grew up in New Jersey and enjoys living in Chicago and exploring the Midwest with her husband, Ryan.
Monique Garcia serves as Vice President of Public and Media Relations for Mac Strategies Group. In this role, she oversees operations in Springfield and provides strategic vision and planning to ensure clients reach their goals inside the Statehouse and beyond. Recognized as one of the "best state capitol reporters in America" by the Washington Post, Garcia offers an invaluable blend of skills to successfully execute a variety of media and public relations campaigns.
Garcia brings a wealth of media experience, having worked as a journalist at the Chicago Tribune for more than a decade, most recently as the Tribune's Statehouse Bureau Chief. Her expertise covering Illinois government and politics eventually brought her from Chicago to Springfield, where she helped direct coverage as the Tribune's legislative correspondent. During her time at the Tribune, Garcia developed a unique reputation for helping readers digest intensely complex information. From the impeachment of a governor to the launch of then U.S Senator Barack Obama's presidential campaign and his subsequent visits to Illinois, she has covered a number of high profile issues, including several congressional races and historic legislative issues.
Most notably, Monique delved into the state's historic budget stalemate and explored its impact on taxpayers and those who do business with the state. She also examined Illinois' pension crisis and efforts to push for change. In acknowledgment of her quality reporting, Garcia and her team were recognized by the Chicago Journalists Association for their efforts to provide daily, microscopic coverage of the 2014 governor's race.
Monique Garcia earned her bachelor's degree in journalism from Southern Illinois University Carbondale and her master's degree in public affairs reporting from the University of Illinois at Springfield. She serves on the Board of Directors of the Boys and Girls Clubs of Central Illinois and is a member of the Illinois Council on Women and Girls. She resides in Springfield.
---
Location Map