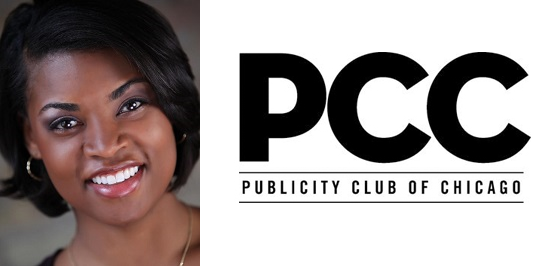 Event Details
| | |
| --- | --- |
| Date | Wednesday, Sep 2, 2020 |
| Time | 12:00 PM to 1:00 PM |
The 2020 Publicity Club of Chicago Webinar Series is sponsored by
News Exposure

The Publicity Club of Chicago welcomes WTTW 11/Chicago Tonight Co-Anchor/Correspondent Brandis Friedman for a webinar on Wednesday, September 2 at 12:00 PM CST. This discussion is a part of PCC's regular conversations with members of the media.
Friedman will provide perspective on news in 2020 and discuss a new Chicago Tonight program, Black Voices: A WTTW News Community Conversation
About Brandis Friedman
Brandis Friedman is a co-anchor and correspondent for Chicago Tonight, WTTW's 30-year running nightly news affairs program.. Friedman has been with Chicago Tonight since 2013. In this role she has had the privilege of interviewing history-makers, from the Little Rock Nine to former Secretary of State Condoleezza Rice.
Friedman came to WTTW from WBBM Newsradio where she anchored radio broadcasts, produced, wrote and voiced daily news stories. Prior to that, she was a special projects producer and fill-in Reporter for WJLA-TV/ABC-7 in Washington, D.C.; served as deputy communications director for the House Committee on Science and Technology; and worked as a reporter for the NBC affiliates in Little Rock, Arkansas and Wichita Falls, Texas. Friedman grew up in Vicksburg, Mississippi, graduated from Dillard University in New Orleans, and received her master's degree from The Journalism School at Columbia University in New York. She also earned three regional Emmy Awards during her time in DC.
About Black Voices: A WTTW News Community Conversation
WTTW News recently announced it will launch Chicago Tonight: Latino Voices and Chicago Tonight: Black Voices, two additions to its influential and independent news and public affairs content and an extension of one of Chicago's flagship news shows. These half-hour programs premiere on Saturday, September 12, 2020 at 6:00 pm and Sunday, September 13 at 6:00 pm on WTTW and will stream live and on-demand on wttw.com/news, Facebook and YouTube. Hugo Balta, News Director for WTTW News, will launch Latino Voices as host and Brandis Friedman, co-anchor of Chicago Tonight, will host Black Voices.
The Voices series will provide thoughtful and accurate coverage of current events to inform and engage the public, and create opportunities for real conversation and a platform for different voices and perspectives. Each week, Latino Voices and Black Voices will offer a mix of analysis and features on a wide range of topics, including arts and life, entrepreneurship and innovation, and equity and justice across the sectors of our society and in the Black and Latino communities in Chicago. The producers will work with a range of local grassroots organizations in story selection to ensure that coverage reflects the needs of the community.
"Recent events have spotlighted the ways in which Black and Brown communities feel underrepresented and marginalized," said Black Voices host Brandis Friedman. "These new series will allow us to explore the issues that matter to those communities, while giving those neighbors an opportunity to be heard."
---