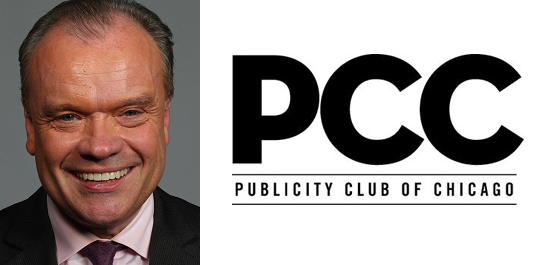 Event Details
| | |
| --- | --- |
| Date | Wednesday, Oct 7, 2020 |
| Time | 12:00 PM to 1:00 PM |
The 2020 Publicity Club of Chicago Webinar Series is sponsored by News Exposure

The Publicity Club of Chicago welcomes Chicago Tribune Theater Critic & Culture Columnist Chris Jones for a webinar on Wednesday, October 7 at 12:00 PM CST. This discussion is a part of PCC's regular conversations with members of the media.
Jones will discuss the impact of COVID-19 on all things arts and entertainment in the Chicago area and beyond.
About Chris Jones
Chris Jones is the chief theatre critic for the Chicago Tribune. He has reviewed and commented on culture, the arts, politics, and entertainment for the Chicago Tribune for 15 years.

Along with being the paper's chief voice on local and national theatrical productions, he also writes a weekly column on culture and the arts. Jones also appears each week on the CBS-2 morning news in Chicago.

Prior to joining the staff of the Tribune, Jones served for many years as the touring theater critic for Variety and Daily Variety, publishing several hundred theatre reviews with a particular emphasis on pre-Broadway tryouts. He has covered theatre in numerous cities throughout the United States, including as Variety's Broadway critic.

He serves on the editorial board for the Best Plays annual and has twice served on the drama committee of the Pulitzer Prizes. His arts criticism also has appeared often in the Los Angeles Times, New York Times, Washington Post, American Theatre magazine and numerous other newspapers and magazines. For many years, he has chaired the American Theatre Critics Association committee that annually recommends a theater to receive the Tony Award for outstanding regional theatre.

Jones spent 10 years teaching at Northern Illinois University, where he served as both an associate professor and as assistant chair of the School of Theatre and Dance. He also served as associate dean of The Theatre School at DePaul University, where he continues to be an adjunct professor. His honors include the Gold Medallion from the American College Theatre Festival, for his work with young theatre critics.

A native of Manchester, England, Jones earned a doctorate from the Ohio State University in 1989.

He lives in Evanston with his wife Gillian Darlow and their two boys, Peter and Evan.
---