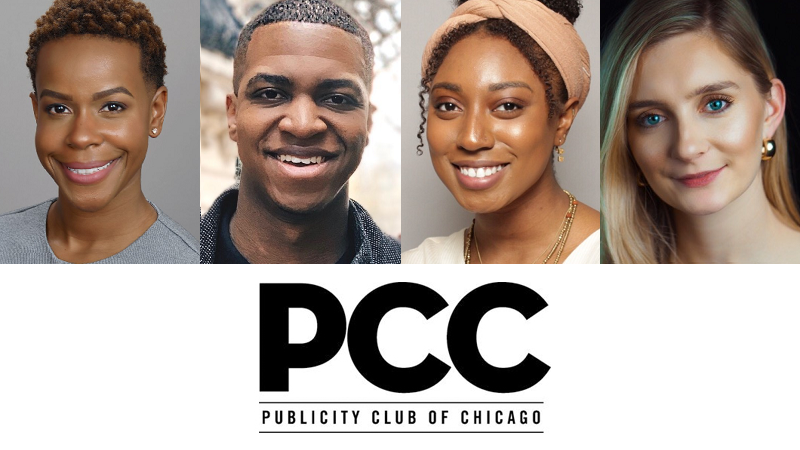 Event Details
| | |
| --- | --- |
| Date | Tuesday, Oct 20, 2020 |
| Time | 1:00 PM to 2:00 PM |
The 2020 Publicity Club of Chicago Webinar Series is sponsored by News Exposure

How do you know if starting your career on an entrepreneurial path is right for you? Register for Start at a Start-up? taking place on Tuesday, October 20 at 1:00 PM.
Attendees will walk away with knowledge about start-up culture and what to do now to prepare for this path.
This panel is taking place as part of PCC's Career Fair Week.
Speaker Bios
With over 10 years of marketing and writing experience, Rashauna C. Arnold, MA, CPRW, CPCC merges both skillsets to help clients create a unique brand that makes them vital candidates in their desired fields. Her interactive coaching services help professionals transition into and throughout the job market with ease.
After writing over 1,000 resumes for some of the world's largest resume writing firms, including Monster.com, for several years, Rashauna saw a need to create resume writing and career coaching services specific to the needs of college students. Taking a leap of faith, she created BrandYou Career Coaching, LLC and worked effortlessly alongside universities, high schools, nonprofits and government agencies to assist college students in finding their voice and discovering their niche in the work world.
Rashauna graduated from Columbia College Chicago with Bachelor of Arts in Broadcast Journalism and received her Master of Arts in Communication from Wayne State University in Detroit. She is a Certified Professional Resume Writer and Certified Professional Career Coach.
Kenneth Cook is a creator, content strategist, and self proclaimed nomad based out of Los Angeles. As an active traveler, he sees the true value in actively collaborating with individuals from different industries and backgrounds.
After graduating from Columbia College Chicago in Chicago in 2016, Kenneth has worked within the advertising and digital marketing space, within both an agency and in-house environment.
Kenneth is passionate about creating authentic work that accurately reflects the reality and provides a voice and platform to the people.
Hadiatu Jalloh is a Marketing Associate at Chicago based startup Farmer's Fridge. Originally from Boston, MA, Hadiatu quickly became eager to explore Public Relations and Marketing while attending Columbia College Chicago. There she majored in Public Relations and worked as an on-campus tour guide, later joining Columbia's PRSSA chapter.
Post-college, Hadiatu has most-enjoyed exploring current and effective tools for strengthening brands and assisting them in building lasting consumer relationships.
Mackenzie O'Connor is an Associate Growth Marketing Manager at Cameo. O'Connor has been with Cameo since 2018 and served in multiple positions as the company has grown.
O'Connor graduated from Columbia College Chicago with a degree in Multimedia Journalism.
---