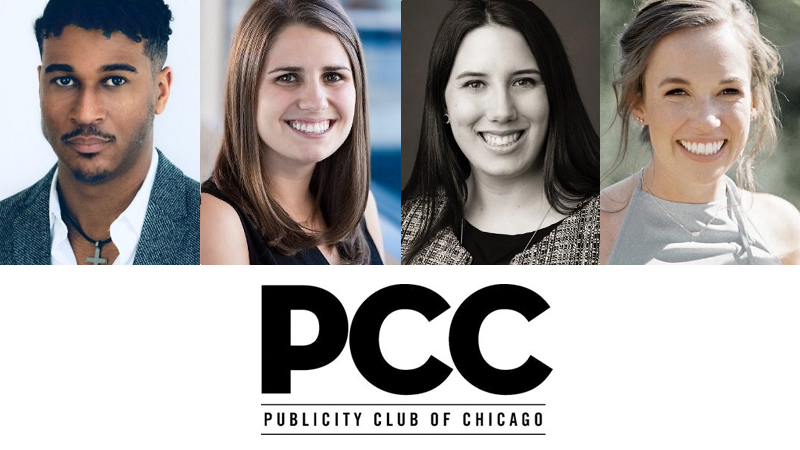 Event Details
| | |
| --- | --- |
| Date | Friday, Oct 23, 2020 |
| Time | 12:00 PM to 1:00 PM |
The 2020 Publicity Club of Chicago Webinar Series is sponsored by News Exposure

Becoming a rock star in your field requires several traits including persistence, planning, and flexibility. Hear from some of the 2020 Golden Trumpet Awards 30 Under 30 nominees on how to maximize the early stages of your career. Join us for this panel on Friday, October 23 at 12:00 PM. PCC Board Member and Career Fair Week Committee Chair Elisabeth Filmer will be moderating the conversation.
This panel is free and taking place as part of PCC's Career Fair Week.
Speaker Bios
As a communications and political strategist, Sean Anderson helps organizations advance justice and liberatory thinking by communicating the need for change and shifting public narratives.
At Kivvit, he helps clients develop their public affairs and integrated communications strategy—with a particular focus on government agencies, advocacy campaigns, nonprofits, and social impact initiatives. He specializes in organizational strategy, messaging, political analysis, stakeholder engagement, and digital media.
After growing up between Markham and Naperville, IL, Sean graduated from Roosevelt University with a BSBA in management and organizational development. He currently lives in Chicago's South Loop and spends his free time on personal health and spiritual growth.
Heather Jozwiak is a senior account executive in the technology practice at BCW's Chicago office. She handles account management, media relations initiatives, event planning, executive visibility, thought leadership and strategy for multiple clients across the technology and corporate practices with a focus on cloud computing and emerging technology.
Amanda Trcka is a managing supervisor at FleishmanHillard. She joined the Chicago office in 2019 after spending a year in the New York office, and was quickly promoted to Account Supervisor given her stellar track record of success with clients including General Motors (GM), EA Sports and Levi s. Underpinning her fast promotion track is her leadership on our multi-office GM account.
In addition to delivering stellar results to clients, she serves on the FleishmanHillard Chicago Diversity, Equity & Inclusion committee and leads the office's PR awards program.
---