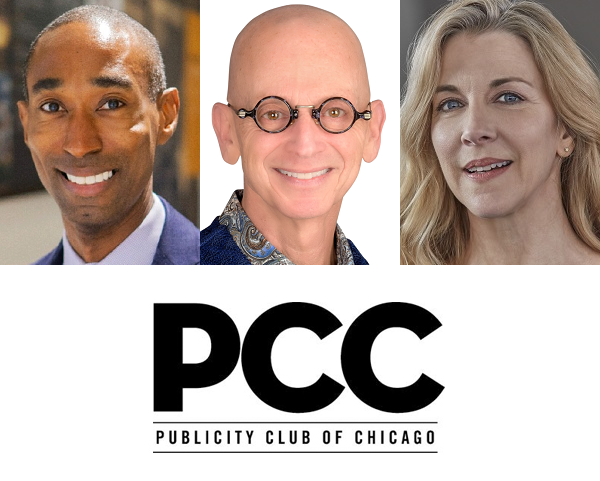 Event Details
| | |
| --- | --- |
| Date | Wednesday, Mar 3, 2021 |
| Time | 12:00 PM to 1:00 PM |
The 2021 Publicity Club of Chicago Webinar Series is sponsored by News Exposure

Join PCC on Wednesday, March 3 at 12:00 PM for an interactive webinar, "Making the Most of Virtual Networking".
Attendees will hear the panelists give tips for virtual networking for 10-15 minutes before being placed into breakout networking rooms. In these virtual breakout rooms, attendees will be asked to give their elevator pitch, discuss their business goals in 2021, and more. Walk away with new connections and new information about the virtual networking landscape. Panelists will include Executive Coach Jennie Moreau, Owlish Communications Founder & CEO JD Gershbein, and PCC Vice-President DeRondal Bevly.
Speaker Bios
JD Gershbein is a speaker, raconteur, thought provocateur, writer, social scientist, business psychologist, humorist, philosopher, consultant, coach, video producer, broadcaster, marketer, improvisational comic, cartoonist, playwright, blogger, blues pianist, cinephile, and pizza connoisseur. He is also the eternal optimist, an outfielder with warning track power, and a long-time aficionado of the owl. He cannot juggle.
In addition to his speaking business, JD is the founder and CEO of Owlish Communications, a consultancy focused on thought leadership development, LinkedIn strategy, and new media production. An early adopter of the social networks, he pioneered a unique educational approach to personal branding and online communication for which he has achieved widespread recognition.
JD's value is in helping people gain clarity on their professional narrative and empowering them to tell their brand story with gusto. Those who collaborate with him gain a soaring sense of self-esteem, enabling them to gain a competitive advantage in their industry.
The Wisdom Zone, the Official Blog of Owlish Communications, is dedicated to the study of thought leadership and advancing the frontiers of personal branding in the Digital Age.
Jennie Moreau helps people find their voice. Whether in a corporate or studio setting, in large groups or one to one coaching sessions, she empowers her clients to create and deliver magnetic messages. She uses her years of experience as a professional actor and acting teacher to identify clients' core strengths, teach vital presentation skills, refine essential content, and utilize all to deliver memorable communications that unite the head and the heart. Jennie coaches executives and teams both virtually and in face-to-face sessions, and provides training for on-camera appearances.
Representative clients include SAP, Mercedes Benz Research and Development North America, Steel Dynamics Inc., Americas' SAP Users' Group (ASUG), JLL, Heartland Alliance, Gads Hill Chicago, Women in Bio, Public Communications Inc. (PCI), Dominican University, speakers for TEDx, and the d.School, Institute of Design at Stanford.
As an actor, Jennie has worked extensively on stage, film, and television. In New York, she acted at Manhattan Theatre Club, Second Stage, and Minetta Lane. In Chicago, Jennie has performed at Steppenwolf, the Goodman Theatre, and Victory Gardens. She has done numerous commercials, episodic television shows, (Law and Order, Chicago Fire, Chicago PD and Chicago Med), independent films, and has taught actors at Acting Studio Chicago, Victory Gardens Theatre and Act One Studios.
---