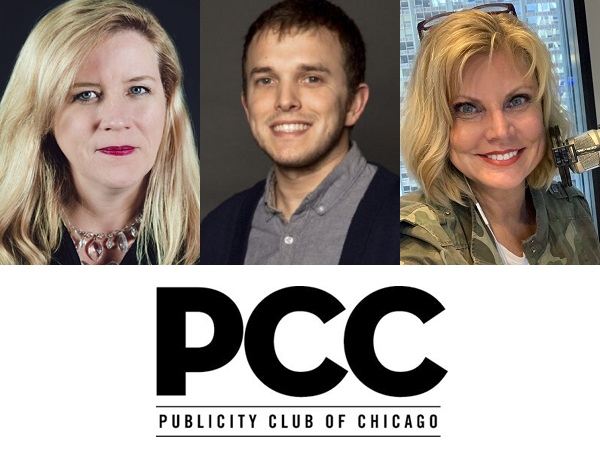 Event Details
| | |
| --- | --- |
| Date | Wednesday, Apr 28, 2021 |
| Time | 12:00 PM to 1:00 PM |
The 2021 Publicity Club of Chicago Webinar Series is sponsored by News Exposure

WBBM Newsradio Managing Editor Julie Mann returns to PCC a year after the pandemic changed all our lives. Julie joined us last year at the start of the pandemic. For this event, she'll be joined by Anchor/Reporter Lisa Fielding and Morning Editor Zac Weber to talk about news coverage during the historic year of 2020 and the beginning of 2021. Find out what's next and what WBBM is looking to cover.
Join us at the Publicity Club of Chicago on Wednesday, April 28 at 12:00 PM CST for this virtual conversation.
Speaker Bios
Julia Mann
Julie Mann is an award winning journalist who as been a part of WBBM Newsradio for over 20 years.
Julie started at WBBM as a general assignment reporter and weekend anchor. In 2001 she accepted the position of Suburban Bureau Chief working out of the offices of the Daily Herald where she remained as a reporter until she was named WBBM's Managing Editor in 2010.
She was humbled in both 2014 and 2017 to make Robert Feder's list of the 10 Most Powerful Women in Chicago Journalism. You can catch Julie on air from time to time producing her own stories, features and filling in at the anchor desk.
Julie is a Drake University graduate and is the third generation of her family to grow up in western suburbs. Her inspiration to become a journalist came from her childhood admiration of CBS reporter and"Evening News" anchor Walter Cronkite.
Lisa Fielding
Lisa Fielding is an anchor and reporter for WBBM Newsradio . She brings three decades of news and sports, radio and television broadcasting experience to WBBM.
She currently anchors WBBM's highly rated afternoons and also is a general assignment reporter specializing in sports, entertainment, health and human interest stories. A career highlight at Newsradio was covering the Chicago Cubs on the road for the 2016 World Series in Cleveland.
Zac Weber
Zac Weber is the morning editor at WBBM Newsradio. Zac started at WBBM in 2013, and previously worked as a writer and assistant producer at the station. Zac is an alumni of Loyola University Chicago, and lives in the Lakeview neighborhood. You can often find him at the Music Box, a bookstore, or riding a CTA train..
---