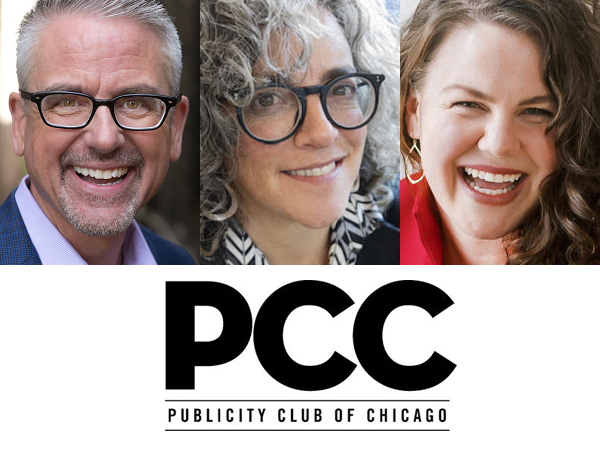 Event Details
| | |
| --- | --- |
| Date | Wednesday, May 12, 2021 |
| Time | 12:00 PM to 1:00 PM |
The 2021 Publicity Club of Chicago Webinar Series is sponsored by News Exposure

Storytelling is vital to getting any message across. That goes for corporations, nonprofits, and all different groups in between. Join the Publicity Club of Chicago on Wednesday, May 12 at 12:00 PM CST and hear from a panel of storytelling pros from across the country. Attendees will leave the webinar with tips to tell stories better and make storytelling work better for your work and any clients.
Speaker Bios
Rob Biesenbach
Rob Biesenbach works with leaders who want to be more persuasive and authoritative in everything they do. That means helping them break free from Death by PowerPoint, tell their story, and communicate like humans should.
The author of the Amazon bestseller Unleash the Power of Storytelling: Win Hearts, Change Minds, Get Results, Rob is an award-winning corporate communication consultant, an in-demand keynote speaker and workshop leader, and a Second City–trained actor.
He combines insights from the worlds of business and performance to deliver programs that are as entertaining as they are enlightening. His clients include AARP, Allstate, Coca-Cola, Deloitte, and Feeding America, among many others.
In former lives he was a vice president at Ogilvy PR Worldwide, press secretary to the Ohio Attorney General, and a nonprofit and association executive.
Lisa Gerber
Lisa Gerber believes we all have the ability to make the world a better place one story at a time. To that end, she advises purpose-driven leaders on how to make their idea of change happen through effective storytelling and communication. Her training and coaching programs are designed to help organizations get noticed, shift perception, and get funded. Her book, Go Fund Yourself will be released in fall of 2021.
When she is not in her office, she might be out skiing or trail running. This is where she does her best creative problem solving. You can follow her blog at bigleapcreative.com/blog. She is the host of Breaking Trail podcast, where she uncovers the great stories of outdoor active professionals and entrepreneurs who are redefining the way they do life and business. Lastly, she speaks at conferences nationally on storytelling and taking big leaps. www.lisa-gerber.com
Sarah Panus
Sarah Panus helps content marketers think like Editorial Directors to build and manage winning brand storytelling strategies using her signature EFD method (empathy+focus+data); pulling from nearly 20 years' experience helping billion-dollar brands drive leading ROI through brand storytelling. Before starting her Kindred Speak consulting biz, Sarah spent the majority of her career leading content strategy on the corporate side. She comes from a world managing up to $10M budgets, but knows how to get scrappy too.
Like all moms, she wears a lot of hats: Minnesota mama, content strategist, podcast host of Marketing With Empathy, and owner of Kindred Speak LLC. Her mission is to add value to the world by helping humanize brand connections; help content marketers reduce overwhelm/confusion; and raise money to fund child trafficking rescue missions. Learn more at www.kindredspeak.com.
---