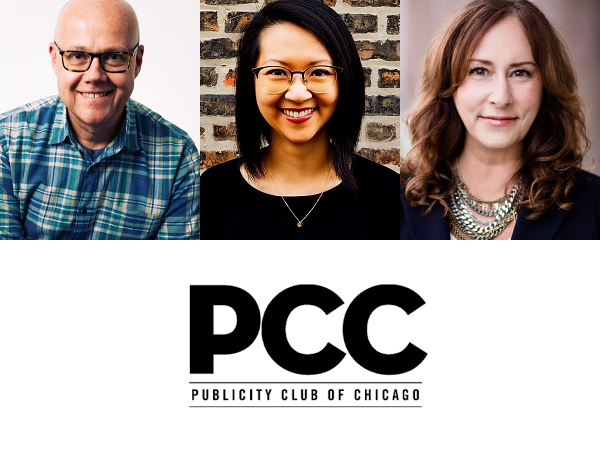 Event Details
Date
Thursday, Jan 26, 2023
Time
11:30 AM to 1:00 PM
Location

Golin




875 N. Michigan Avenue, #2600




Chicago

,

IL

60611


see map
Join the Publicity Club of Chicago on Thursday, January 26 for a panel conversation at Golin's offices in downtown Chicago. Attendees will hear from three leaders at Golin on the topic of 'Managing Societal Issues in a Polarized Marketplace'. Attendees will walk away with tips for protecting your brand in the face of heightened public expectations and other key insights for today's business environment. Advanced registration is required.
Who is speaking?
Golin's Dave Duschene, G.P. Ooi, and Laura Sutphen.
What time does the event start and end?
Check-in and lunch starts at 11:30 AM. The program starts at 12:00 PM. Everything will be wrapped up by 1:00 PM.
Where is the meeting taking place?
Golin's offices at 875 N. Michigan, the John Hancock Building. Additional details for arrival will be sent after registering.
What's for lunch?
Grecian chicken and/or Mediterranean steak with the option to add any of pita, feta cheese, tzatziki sauce, tomato wedges, sliced white onion, and Greek salad. There will also be a Cous cous salad (with cranberries, pecans, and green onion in an orange vinaigrette) and Mediterranean basmati rice (with lemon, butter, and fresh parsley) to add to your plate.
Can you tell me more about what the panelists will talk about?
The influx of societal issues over the past three years has led to increasingly sophisticated activism targeting companies and brands like never before, from both inside organizations and out. Employees are uniting and harnessing their influence over company decision making, while consumers are demanding that brands clearly articulate their stances on myriad topics. All this activism leaves leaders and communicators grappling with questions about whether and how to communicate around the issue of the day. Golin's leaders in purpose communication, employee engagement and issues management believe that companies and brands need to stay true to their values and operating track records if they intend to thread the needle in these hypersensitive times.
Can you provide the speakers' bios?
Dave Duschene, Executive Director, Issues & Crisis Communication
Dave leads Golin's Issues & Crisis team, which offers daily counsel to the agency's clients on how to protect and promote their reputations in today's volatile sociopolitical environment. Dave is a former newspaper journalist who has counseled and prepared executives to engage with media across multiple industries and sectors. He has supported numerous clients in defining and protecting their corporate reputations, including Hard Rock, Walmart, Pepsico, Crayola, Chicago Blackhawks and others. While Dave has worked in the PR agency field for more than 25 years, he started his career as a business and political reporter for a variety of outlets, including the Associated Press and Daily Herald.
Dave holds a Masters Degree in Public Affairs Reporting from University of Illinois at Springfield, and a Bachelor of Science in Print Journalism from Northern Illinois University. Dave competes daily to guess Wordle in fewer words than his wife and on Friday nights can be found on the park district ice rink with his 16-year-old son playing pick-up hockey. Dave and his family have lived in Oak Park, IL for 18 years.
Gaik Ping Ooi (G.P.), Vice President, Employee Communication & Engagement, Inclusive Communications
G.P. Ooi is a communication professional who leverages her background in corporate reputation building across global markets to drive influence and engagement between employers and their employees to achieve organizational goals. Additionally, she is part of the Inclusive Comms leadership team that helps companies connect with the profoundly diverse workforce and consumer market and is a leader in internal DEI efforts at her company.
G.P. has delivered strategic, integrated communication programs to help organizations find relevance with their employees through mergers and acquisitions, change management and organizational redesigns, culture campaigns and crisis situations, among others. She is also experienced in conducting quantitative and qualitative research, building executive visibility and designing communication content and channel strategy to guide effective employee engagement.
She has led employee engagement, inclusive communications and corporate reputation work for clients such as PepsiCo, Johnson & Johnson, Crayola, Discover, Humana, Delta Air Lines, Ferrara and others.
Laura Sutphen, Managing Director, Social Impact + Inclusion
Laura Sutphen is the Managing Director for Social Impact + Inclusion at Golin, where she leads a diverse team that creates strategies and solutions for brands to be equitable, sustainable and act with purpose. Laura works at the intersection of strategy, innovation, communications and social good to help companies break through with social impact storytelling. As an award-winning expert and thought leader in social purpose and sustainability, she's worked with global brands and organizations to architect some of the biggest moments in culture. Highlights include naming the emergency contraceptive drug Plan B and bringing it to women around the globe; the largest cause marketing campaign in the history of Warner Bros./DC Entertainment that provided aid to the drought and famine in the Horn of Africa; and leading sustainability and social impact strategy for brands including Walmart, Procter & Gamble, Neutrogena, Lego, and Clif Bar. In addition to her agency background, Laura led communications at Amazon where she focused on small business empowerment and customer trust, where she launched the Black Business Accelerator.
She is a graduate of Syracuse University, holding a BS in critical theory and a double minor in speech communication and public relations from the S.I. Newhouse School of Public Communication. She is on the Board of The People's Music School, which provides completely free music education to Chicago's children, and she has been a Jivamukti yoga and meditation teacher for more than 20 years.
---
Location Map