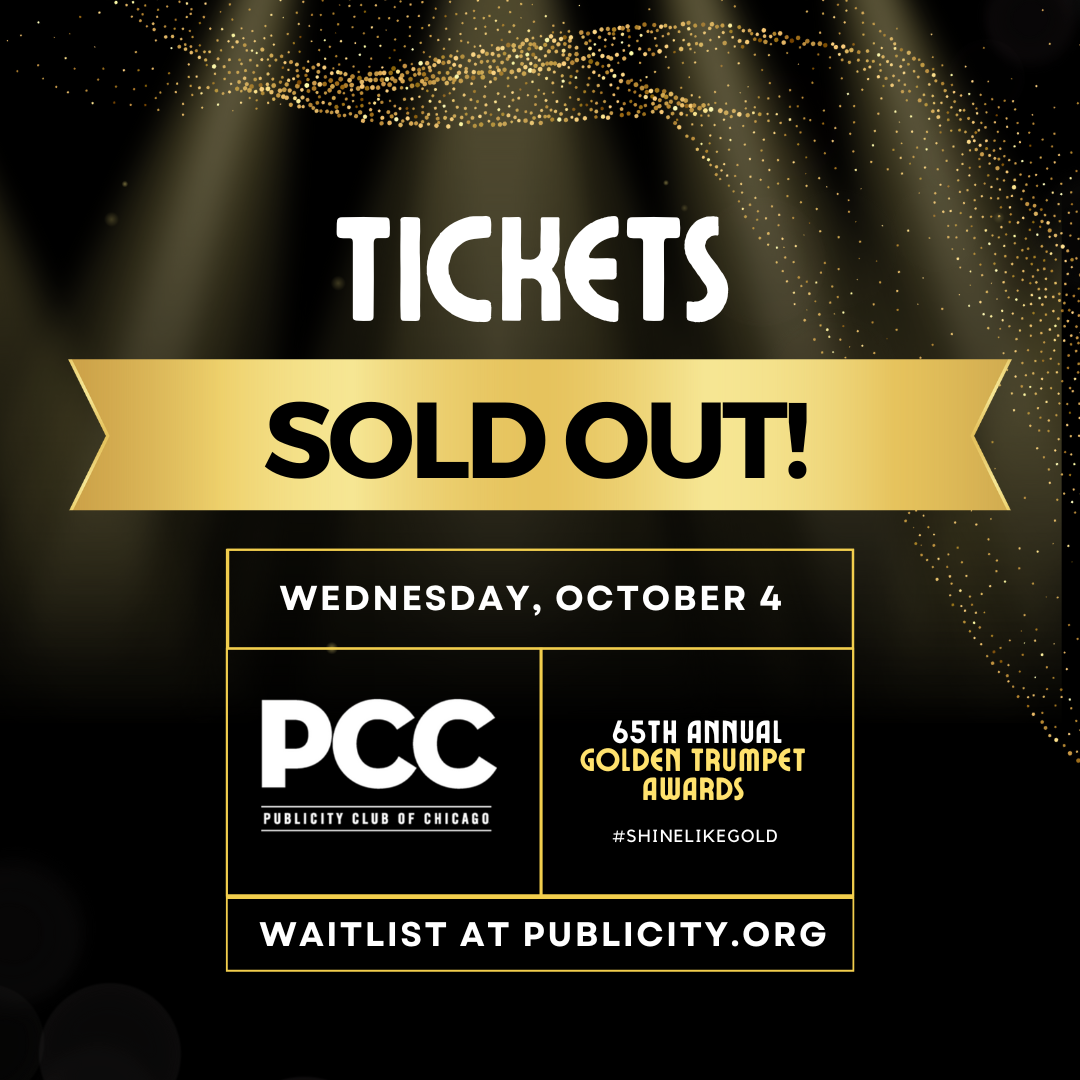 Event Details
Date
Wednesday, Oct 4, 2023
Time
5:30 PM to 9:30 PM
Location

Winter Garden, Harold Washington Library




400 S State St




Chicago

,

IL

60605


see map
Register
SOLD OUT
Add your name to the wait list
Golden Trumpet Awards Ticket
$225.00 Member
$300.00 Non-member (Join now!)
Golden Trumpet Awards Sponsor Table
$2,750.00 Member
$3,250.00 Non-member (Join now!)
Golden Trumpet Awards Corporate Gold Sponsor Table
$2,500.00 Member
The 65th Annual Golden Trumpet Awards will be taking place during the evening of Wednesday, October 4. This year's ceremony will be at the Winter Garden at the Harold Washington Library in downtown Chicago.
In addition to the excitement of the awards, attendees will enjoy a seated dinner and open bar before and after the program portion of the evening. The fun will start at 5:30 PM and run to 9:30 PM.
Following the feedback of last year's Golden Trumpet Awards, attendees can expect plenty of time to take photos with their awards and network with colleagues. Given that we are celebrating the 65th Annual Golden Trumpets, expect to see more history and special announcements around this year's celebration.
Full event information is below. Purchase your tickets for an unforgettable evening.
Date and Time
Wednesday, October 4 - 5:30 PM to 9:30 PM
Location
Winter Garden at Harold Washington Library
400 S. State Street
Chicago, IL 60605
This year's ceremony is being held at the historic Winter Garden. Located on the 9th floor and described as the architectural centerpiece of the Harold Washington Library, the elegant and spacious atrium features a terrazzo and marble floor, and a 52-foot glass-paneled dome spanning the entire room.
Tickets
$225 for Members
$300 for Non-Members
Sponsor Tables of 10
$2,750 for Members
$3,250 for Non-Members
Attire
Wear whatever helps you #ShineLikeGold. The Winter Garden will be setup so you can capture the moments that will memorialize you celebrating with your team. Dress for the moments that will live in your photo albums, your social media feeds, and your memories for a long time to come.
Transportation
The Winter Garden is located on the 9th Floor of the Harold Washington Library, which is located at 400 S. State Street. CTA Brown, Orange, Pink and Purple Lines have a direct stop at the Harold Washington Library. The Blue and Red Line Jackson stops are located within a 5-minute walk or less.
Ceremony Timeline - 5:30 PM to 9:30 PM
5:30 PM Check-in and networking
6:30 PM Program begins
8:30 PM Program concludes
9:30 PM Evening concludes
We will have a more detailed program closer to the event. The general flow of the evening will be that guests can and should arrive at the Winter Garden as close to 5:30 PM as possible. The opening hour between 5:30 PM and 6:30 PM will include an open bar, networking, and opportunities for photos. Dinner will also be plated during this time.
Ceremony Program
Our program will start at 6:30 PM and run until about 8:30 PM. The program will include:
Announcing each Golden Trumpet Awards winner and bestowing trophies
Recognizing this year's 30 Under 30 class
Honoring the Presidential Legacy Award
Bestowing the Lifetime Achievement Award
Announcing the Platinum Award, the award for the best overall campaign
Ceremony Food and Beverage
Attendees of the 65th Annual Golden Trumpet Awards will enjoy
A full, plated dinner (please let us know if you have any dietary restrictions)
Open bar between 5:30 PM and 6:30 PM and 8:30 PM to 9:30 PM
Passed hors d'oeuvres between 5:30 PM and 6:30 PM
Stay tuned for additional information on sweets between 8:30 PM to 9:30 PM.
Ceremony Seating
Attendees of the 65th Annual Golden Trumpet Awards will be informed of their table number upon taking the elevator up to the 9th floor and visiting the registration table.
Frequently Asked Questions
Q: Last year's Golden Trumpet Awards was more of a cocktail event. Would you describe the 65th Annual Golden Trumpet Awards, this year's ceremony, as a gala-style event?
A: Yes, that's exactly how we would describe it, a gala-style event. Last year's ceremony was the first in-person Golden Trumpet Awards ceremony since 2019 and we trying out a different format while returning to familiar waters. Like many things these days, this year's program will be a bit of a hybrid between recent Golden Trumpet Awards ceremonies and last year's ceremony. The way that attendees arrive, receive an assigned seat, and enjoy a full, plated dinner will be like Golden Trumpet Awards ceremonies in the 2000s and 2010s. For the Golden Trumpet Awards rookies out there, that means a fancy gala.
Q: What kind of attire should one wear for the 65th Annual Golden Trumpet Awards?
A: We always encourage guests at the Golden Trumpet Awards to wear whatever helps them #ShineLikeGold. Some will wear ball gowns. Some will wear tuxedos. Many will wear other formal wear and business attire. There will be plenty of photo opportunities so we suggest dressing the way you want to show up in photos you will remember for a lifetime.
Q: If I buy a group of tickets, will all of my guests be seated at the same table together?
A: Yes, as long as the tickets you purchased are all purchased by the same login account, your group will be seated together. The one exception to that is if you purchase more than 10 tickets. There are up to 10 seats at a table so if you buy more than 10, we will have to split up your group.
Q: I bought tickets and I want to purchase additional tickets. The system is not letting me add on. Is that user error or system error?
A: We wouldn't say it is a system error. We have our reasons for how the system is designed. That said, it's not user error either. If you would like to purchase extra tickets, please write us at office@publicity.org. We will get you set up in the system for the tickets you would like to order.
Q: Will you have photo opportunities like last year?
A: This year we will have even more photo opportunities. Charge your phones in advance to make sure you have enough battery to capture it all. Or don't arrive with a charged phone because we will have multiple photography elements and then you don't have to worry about your phone ringing during the ceremony. Either way, we will have you covered.
---
Location Map