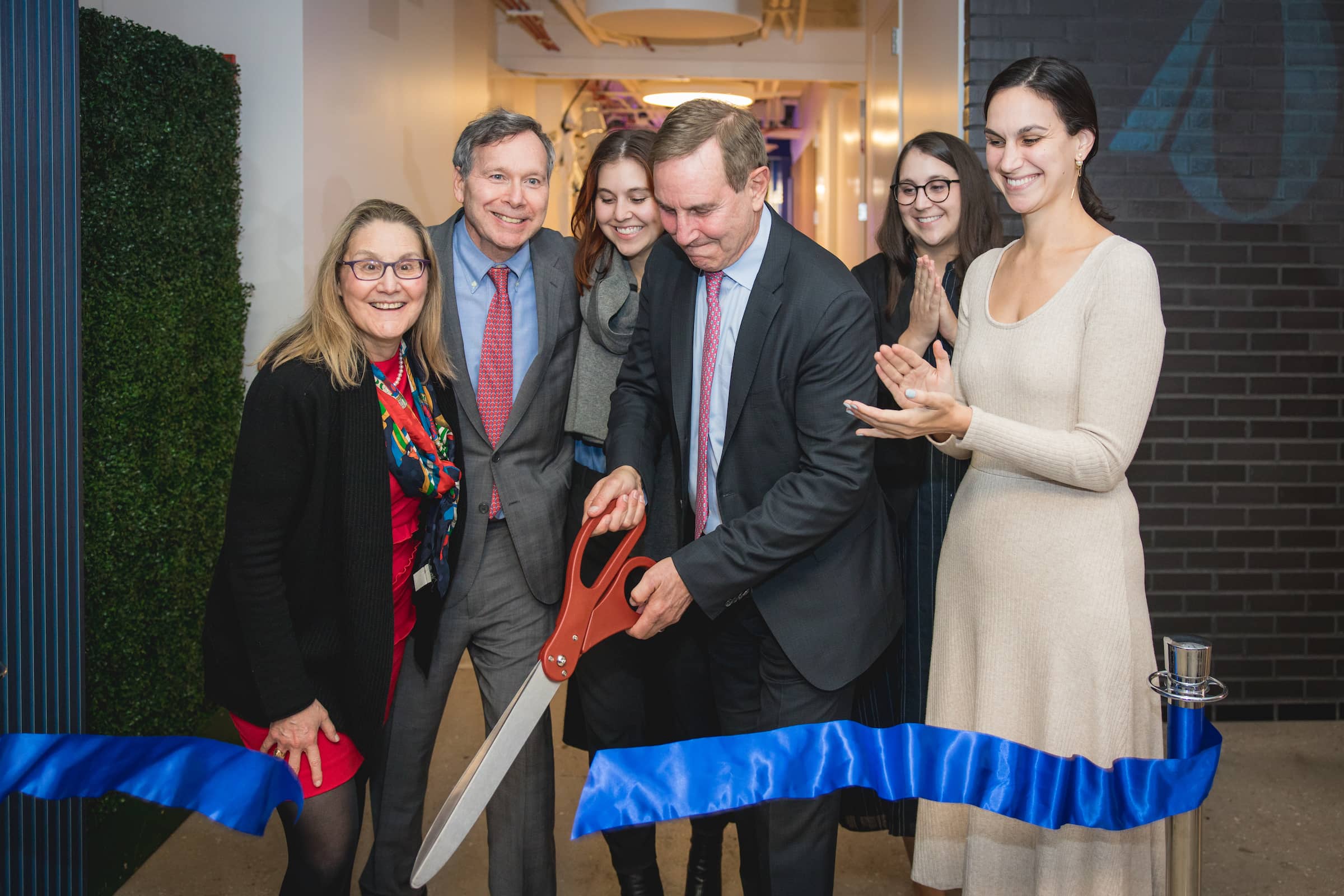 Richard Edelman Wins 2023 PCC Lifetime Achievement Award
A Salute to the Edelmans, Chicago's First Family of Public Relations
By Dominic Calabrese, Past PCC President
What the Daleys are to politics, the Pritzkers to philanthropy, the Fields to retailing and the McCormicks to agribusiness and journalism, they are to public relations.
Meet the Edelmans, Chicago's first family of public relations.
Their giant imprint on both Chicago and the public relations profession began in 1952 when patriarch Dan Edelman founded the PR firm named after the family.
Edelman is internationally renowned as the father of marketing public relations, who is behind some of the world's most famous household brands like Kentucky Fried Chicken now KFC, Orville Redenbacher's popcorn, and many others. And with the "Which Twin has the Toni?" campaign for the Toni Home Permanent Company, he created the media tour which would become a staple of modern-day public relations practice.
His business, which eventually would expand into corporate communications, public affairs, crisis management, and impact, has evolved into a global communications powerhouse. Today, it is the world's largest independently run communications firm with more than 6,000 employees in 66 offices across 28 countries. Its co-headquarters are in Chicago and New York.
From the very beginning, the company was guided by Edelman's core values: the relentless pursuit of excellence; freedom to be constantly curious, courage to do the right thing and an unwavering commitment to positively impact society.
Indeed, Edelman was a champion of causes like social justice, diversity, equity, and inclusion long before they became popular.
When Mr. Edelman passed away in 2013, his three children, Richard, Renée, and John, assumed the full mantle of leadership. The trio are involved in the firm's operations, and work closely together in carrying out their father's vision.
"Our dear mom, Ruth, who played a key role in advising my dad on the business, asked the three of us to stay close, and we do," Renée says.
Eldest son Richard, who became CEO in 1996, is one of the longest tenured agency leaders in the marketing services industry. Under his leadership, Edelman's revenue increased 11.5 times enabling it to become the largest communications firm in the world surpassing $1 billion in revenue. DJE Holdings' revenue increased 14 times during that same period making it the largest independent communications holding company. Richard also serves as Chair of Edelman's sister agency Zeno, which just celebrated its 25th anniversary.
Under Richard's watch, Edelman has received numerous honors, including being named to Advertising Age's A-List in 2008, 2011, 2012 and 2019 and Global Agency of the Year by PRovoke and PRWeek in 2022. It was also saluted as "PR Agency of the Decade" by both Advertising Age and PRovoke At the 2021 Cannes Lions International Festival of Creativity, Edelman became the first PR Agency to win a Grand Prix as lead agency in the Entertainment Lions for Sport and was named Independent Agency of the Year in the Entertainment Track.
With an extensive background in marketing and reputation management, Richard has led assignments with major corporations, nonprofits, and family businesses. In addition, he has been a key adviser to senior executives coping with significant disruptions within their organizations, including Samsung, Starbucks, and United Airlines. He also played a significant role in the largest professional services merger in history; the merger of Ernst & Whinney and Arthur Young & Co.
Universally respected as an industry thought leader, Richard collaborates with numerous clients including Unilever, Dairy Management Inc. and Chobani, and has also counseled countries in every region of the world on economic development programs.
For all his accomplishments, he has received dozens of prestigious awards, including his 2022 induction into the American Advertising Hall of Fame, becoming the first PR executive to ever earn this honor. In 2019, he was named the PR Agency Professional of the Past 20 Years by PRWeek and was inducted into the publication's Hall of Fame.
This coming Wednesday, October 4, Richard will add another top honor to his trophy chest, PCC's 2023 Lifetime Achievement Award.
"I am flattered to be named this year's recipient and I know that my dad would be very proud as well," Richard says, pointing out that his father was one of the earliest members and a strong booster of the club.
When asked about the ties the Edelman family and business have to the City of Chicago, Richard notes that the roots run deep.
"I am a Chicago kid who grew up on the near north side," he observes, adding that he spends a great deal of time in the city, is involved with several local civic and cultural organizations and maintains a Chicago residence.
"Not only is our firm co-headquartered here but it embodies Midwestern values like hard work, honesty, diligence as well as being direct and straightforward," he maintains. "Furthermore, we draw from a diverse, creative, and talented workforce from the Chicago area that's second to none!"
Richard is also dedicated to the firm's long-standing commitment to building trust and championing actions that make a difference in society.
As creator of the annual Edelman Trust Barometer, he has become one of the foremost authorities on trust in business, government, media and NGOs.
Now in its 23rd year, the Edelman Trust Barometer is widely recognized as the leading piece of research on trust with its cross-cultural insights regularly cited in major media outlets. The survey also informs academic studies on trust and provides insights to global experts and opinion-shapers.
Richard's fervor for social justice is shared by his brother John who is Managing Director of Global Engagement & Corporate Responsibility at Edelman. John leads the company's corporate social responsibility and sustainability efforts.
"Citizenship is inherently embedded at Edelman through our fourth company value: The Commitment to Positively Impact Society," he maintains. "Each year, we develop a global citizenship report, which highlights our progress against achieving our citizenship and sustainability goals."
He adds that citizenship means embodying honesty and transparency to foster trust, championing diversity and inclusion to ensure equity for all, while adhering to best practices in every facet of the firm's business.
"This report is more than just a document; it provides a narrative of our dedication to these principles," John states. "We are committed to being a leader in these endeavors and continually strive to make a difference across the globe."
He agrees with his brother that Edelman's employees are its No. 1 asset.
"We strive to nurture a culture where we thrive professionally and personally, and which supports our well-being; embraces and emphasizes diversity, equity, and inclusion; and respects diverse perspectives. We invest in continuous learning, including mandatory climate training."
Specifically, he points to such initiatives as a Global Week of Belonging and a global Earth Day.
"We close all offices globally for one day in recognition of World Mental Health Day, which we are celebrating going forward as Ruth Edelman Day. Our health-and-wellness resources globally focus on the mental, physical, nutritional and financial well-being of our employees," John says. "We also offer our employees' premium access to an online mental well-being platform, as well as support through our global employee assistance program which provides free short-term counseling. Our eight Employee Network Groups increasingly have global representation. Also, employees from any office can recommend a local nonprofit group to receive a Community Investment Grant."
"We believe our employees welcome this global approach to Citizenship," he maintains. "Our global Citizenship Score, an internal measuring tool that allows us to track and measure the individual citizenship achievements of each office, reached 8.48 on a 10-point scale in the fiscal year that ended June 30. It is the highest global score in five years."
The idea of giving back is a fundamental tenet of the Edelman family.
"Our dad often talked about the three-legged stool, with one leg standing for work, the second for health and well-being, and the third representing family and community," notes Renée S. Edelman who serves as Senior Vice President, archivist, co-lead of alumni relations, and a senior media strategist, with the firm.
Renée, who fondly recalls learning the family business when as a three-year-old, she would accompany her dad to client events, is a staunch advocate of mentoring.
"We have to care about our young people," she emphasizes. "After all they are our future!"
Renée, who points to the mentoring she received from both of her parents and two brothers as well as family friends like noted Chicago publisher John Johnson, loves speaking with students, attending job fairs, and helping train the PR leaders of tomorrow.
The message I tell them is "I can do it and so can you!"
Renée, who expresses hopes of one day establishing a Daniel J. Edelman Institute to train young people, is also a supporter of mental health and literacy programs.
Another interest is celebrating the rich history of her father and mother's legacy.
With a firm so iconic and steeped in advertising and PR lore, it was only natural that Edelman would establish a museum housed at its new space in the Fulton Market area of Chicago's West Loop.
The museum opened to the public on October 1, 2022, coinciding with the 70th anniversary of when Mr. Edelman founded the business in 1952.
An enthusiastic backer of the museum, Renée whose name means reborn, serves as an unofficial archivist.
She points out that exhibits include not only memorabilia from major clients over the years but all of Mr. Edelman's papers from World War II during which he served in psychological warfare, analyzing German propaganda.
"It is so exciting to go back and learn about the past so we can better prepare for the future," Renée maintains, adding that she hopes to create more digital archives highlighting Mr. Edelman's career and the firm's accomplishments, its award-winning client work, distinguished alumni, and leadership in trust and citizenship.
Speaking of the future, Richard Edelman expresses optimism about the long-term prospects of the PR industry despite the many challenges it faces from rapidly changing technology and the growth of artificial intelligence.
"My dad was an optimist by nature, and I recall that he often emphasized to us that the cup was half full rather than half empty, Richard says.
Noting that his daughters are carrying on the family tradition and work at the firm, he says, "my dad would be amazed and so very proud that his dreams came true."
---