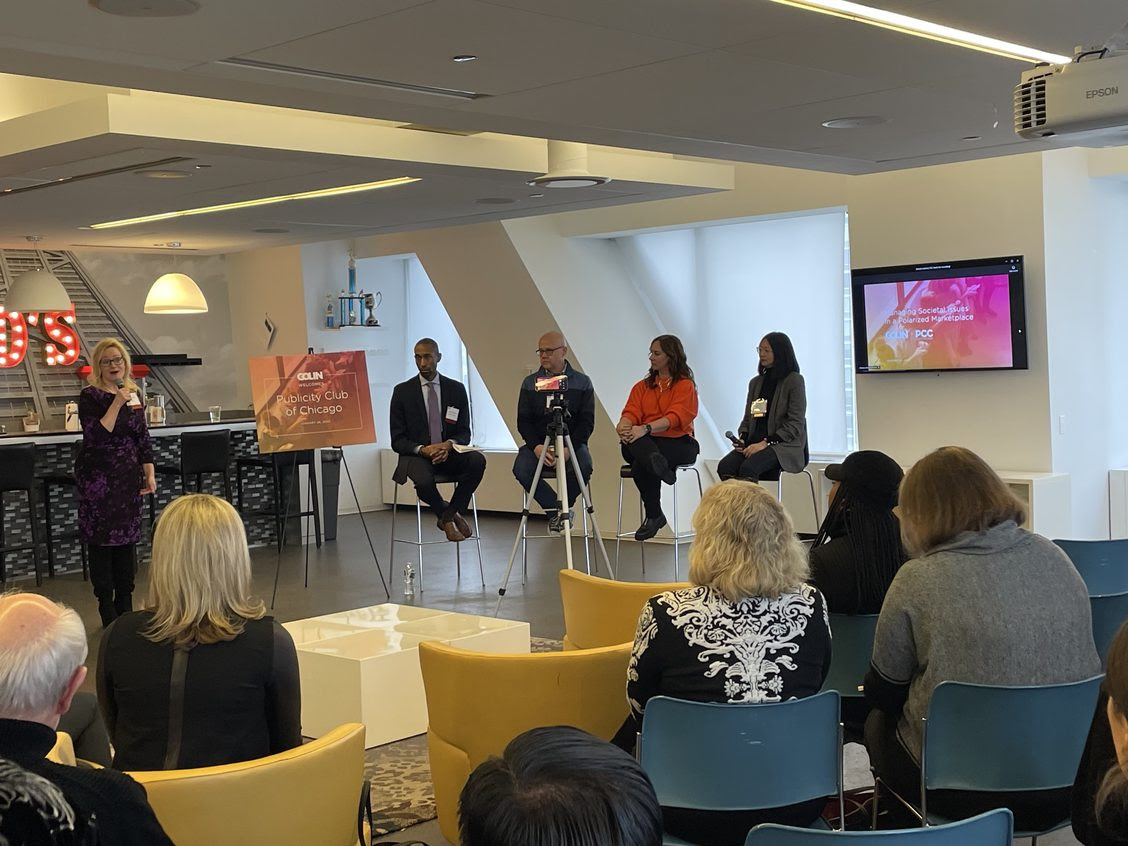 (Pictured left to right: PCC Board Member and Golin's Mary Pettersen, PCC President DeRondal Bevly, Golin's Dave Duschene, Laura Sutphen and G.P. Ooi)
By Past PCC President Dominic Calabrese
Addressing social justice, equity, inclusion and other contemporary issues in the workplace were discussed by three leaders from Golin during PCC's monthly program on January 26.
Offering their insight were Dave Duschene, Executive Director, Issues & Crisis Communication; Gaik Ping Ooi (G.P.), Vice President, Employee Communication & Engagement, Inclusive Communications; and Laura Sutphen, Managing Director, Social Impact + Inclusion. PCC President DeRondal Bevly served as moderator.
The event, which included lunch, took place at Golin's offices at 875 N. Michigan.
The panel cited recent polling data that illustrated the concern more and more clients have for societal issues like equity, gender rights, gun violence, voting rights and the environment – with the expectation that PR agencies need to help their clients determine if they should take a stand on such topics, and when and how to address these issues internally and externally.
Duschene observed that the pandemic helped alter the landscape with companies becoming more invested in their employees.
"This included showing more empathy for employees and the issues they were concerned about," he said, noting clients now had to address social and political matters that they previously didn't have to.
However, Duschene pointed out that clients need to show their concern and that they genuinely care without coming across as self-serving.
He cited as an example the mass shooting that occurred last May at Robb Elementary School in Uvalde, Texas.
"We learned of a couple companies in Texas whose C-suite leaders were personally very concerned about the tragedy," Duschene explained. "However, we advised them to avoid acting on those feelings simply because the companies themselves didn't have any tangible connections to the school.
"To do so would have raised questions about why they are doing this. The perception would be that the company was exploiting the tragedy for its own benefit. If they were in health care or a related field, they might have been able to do more. In this instance, their proposed actions would have been considered inappropriate."
Sutphen pointed out that if a company is going to speak out on a social issue, it must be ready to back that up with evidence of being committed to that same issue in other areas of its social impact commitments.
"The first question brands should ask themselves is to determine what their meaningful role is on the social issue. If the meaningful role cannot be clearly or easily articulated, it's an important moment to pause taking action," she said.
Sutphen went on to share a presentation that showed the results of "Justice for All," a recent study conducted by Golin's Social Impact + Inclusion practice.
Ooi, who is also a leader in internal DEI (Diversity, Equity and Inclusion) efforts at Golin, stressed the need for companies to understand and come to terms with the biases they may have and work to ensure key decisions that are made reflect the organization's diversity.
"While companies are often more attuned to external pressures, they also need to have a sense of their employees' sentiment and expectations," she said. "More and more, we're seeing employees make public demands of their employers around hot-button issues, and they're less afraid of retaliations."
---