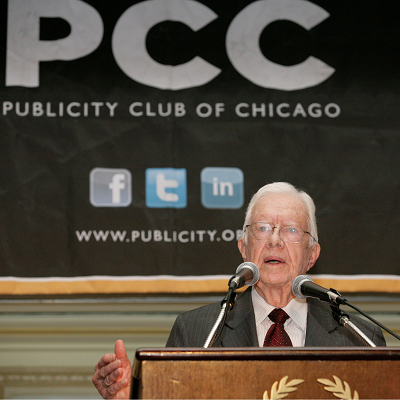 ---
Message from PCC President DeRondal Bevly:
"To celebrate 65 years of the Publicity Club of Chicago's Golden Trumpet Awards, we are looking back on some historic moments in the 'Encore Series'.
When the Golden Trumpet Awards Committee discussed which memory we should start with, we knew we had to lead off with former U.S. President Jimmy Carter serving as our keynote speaker at the Golden Trumpet Awards in 2014.
We send our thoughts and uplifting spirits to President Carter and his family as he recently decided to spend his remaining time at home with his family in hospice care instead of receiving additional medical intervention. We also celebrate his life; the legacy of his Presidency and his distinguished work outside of the Oval Office.
Below is a tribute to the former president written by PCC Past President Dominic Calabrese along with photos from that very special night in 2014, courtesy of Karen Kring."
---
Jimmy Carter: A Very Human President
By Dominic Calabrese, Past PCC President
The historic Camp David accords, which provided a framework for peace between Israel and Egypt. The Panama Canal Treaties. The establishment of the federal Departments of Education and Energy. The intense negotiations that ultimately led to the freeing of U.S. hostages who were held captive in Iran.
And in his post-presidential years, Habitat for Humanity, which has provided housing for the homeless, and the Carter Center, which has championed the causes of freedom and democracy along with improving health care in more than 80 countries.
These notable achievements most readily come to mind when Americans think of their 39th President, Jimmy Carter, who at 98 is spending his final days in hospice care. A successful peanut farmer, nuclear engineer and governor of Georgia, Mr. Carter served as U.S. president from 1977 to 1981.
PR veteran and 2014 PCC Lifetime Achievement Winner Rick Jasculca, who has known President Carter for nearly 50 years, offers a personal perspective on the former president and longtime friend:
"I'll never forget the time when Jimmy and Rosalynn Carter were in Chicago to attend a meeting. They were staying at the Palmer House downtown and had some free time on their schedule. They reached out to my mother and invited her to come for a visit. They wound up spending hours just talking. That's what made the Carters so special. Jimmy Carter was a very human president who genuinely liked people and treated everyone he met with the utmost respect."
---

---
Jasculca adds that Mr. Carter always committed to achieving excellence in whatever endeavor he undertook, be it as a student, naval officer, engineer, farmer, governor and president.
"After all, Jimmy Carter's autobiography, which came out during his first presidential run in 1976, was called "Why Not the Best?".
Jasculca and his business partner, Jim Terman, who also won the PCC's Lifetime Achievement Award in 2014, helped secure the former President's appearance as keynote speaker at the club's Golden Trumpet Awards that year. Through their highly respected firm, Jasculca Terman Public Relations (JTPR), the pair has collaborated with Mr. Carter on numerous presidential initiatives and campaigns ever since his White House years.
They worked alongside then PCC President Jon Kaplan who is credited for switching the Trumpet Awards ceremony to evenings. The 2014 event, which showcased President Carter as keynoter and legendary broadcaster Bill Kurtis as emcee, drew an overflow crowd of 600 people into the Palmer House ballroom.
"When we asked President Carter if he would come, to my surprise, he said yes right away," Jasculca smiles.
Kaplan recalls that when the former president arrived at the Palmer House, he made time to greet several VIPs prior to the awards dinner.

---
"I got to greet him, speak with him and pose for some photos," he says. "At that time, the president was close to 90 years old. However, I was struck by how spry and alert he was."
Kaplan notes that even at his advanced age, Mr. Carter was happy to "work the room", meet anyone who wanted to meet him, pose for as many photos as we wanted, and acted with kindness, dignity, generosity of spirit, and yet, also remained humble and approachable.
"I had found an old "Carter for President" button in an antique store and wore it on my lapel," Kaplan laughs. "President Carter saw it, and chuckled, and said he had a grandson going into politics and maybe, someday, that would be a relevant button again!"
Both Kaplan and Jasculca maintain that history will be kind to the former president.
"At a time when the nation was reeling from the aftermath of the Watergate scandal, Jimmy Carter came into office, pledging a government as good as the American people. He restored our trust in government and had many noteworthy accomplishments in foreign and domestic policy," Jasculca says. "His humanitarian efforts through Habitat for Humanity and the Carter Center have also inspired millions around the world."
---

---