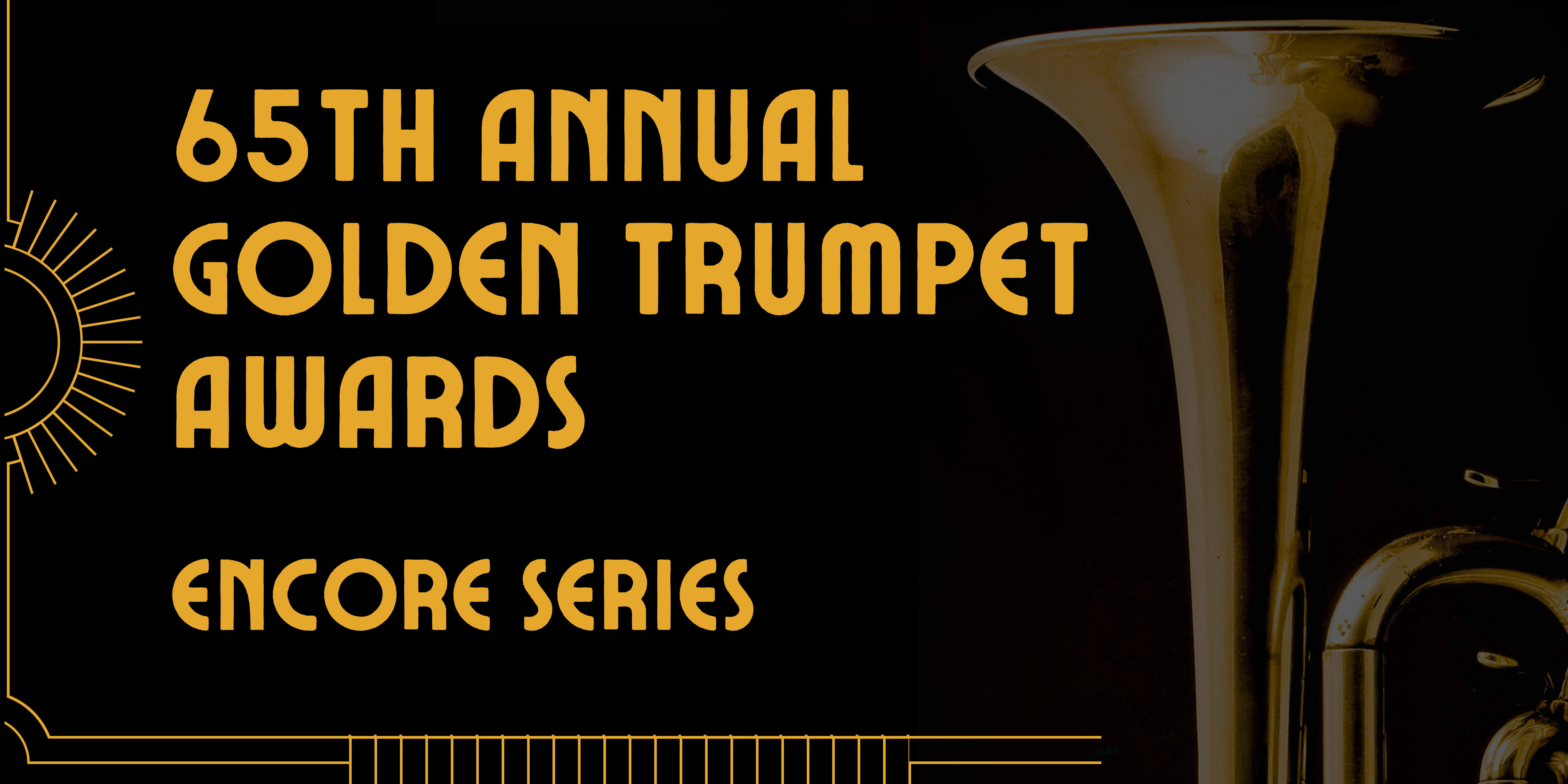 Message from PCC Executive Director Tweed Thornton:
This is the second installment of the Publicity Club of Chicago's Encore Series as the organization celebrates the 65th Anniversary of the Golden Trumpet Awards. PCC leaders past and present are honoring the history of the organization by celebrating prominent members and moments in our history.
Since becoming the Executive Director of PCC, Betsy Plank's name is one I have heard frequently and always in admiration. Those who are familiar with Plank know she embodied what it meant to be a public relations professional and Plank also served as a mentor to hundreds of people throughout her career. It was an honor to ask Jill O'Mahony Stewart, someone who has been a mentor to me as well as a Past PCC President, to write about Betsy Plank, the first woman to be PCC President.
---
Betsy Plank: Champion of the next generation of our profession
By Jill O'Mahony Stewart, MS, MA & Past PCC Co-President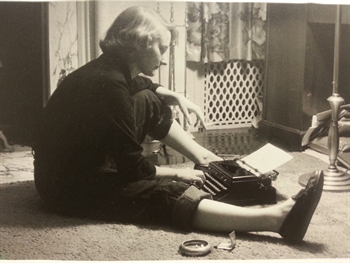 Photo of Betsy Plank, courtesy of the Plank Center for Leadership in Public Relations at the University of Alabama
For those of us not fortunate enough to know Chicago PR legend Betsy Plank, Dr. Karla Gower has captured her life and legacy in the 2022 biography, "Betsy Ann Plank: The Making of a Public Relations Icon."
Throughout her 63-year career, Plank believed public relations professionals had both the responsibility and the opportunity to be the conscience of the organizations they served. She held the profession in high esteem and urged PR professionals to live up to the responsibilities of their roles.
"The role of public relations in a democracy, in Plank's eyes, was to ensure individuals had the full spectrum of views to consider on a subject. Treating individuals with dignity and respect meant being open and transparent and always doing the right thing," said Dr. Gower in the book. "Plank held strongly to a belief in democracy and in the public's ability to make rational decisions."
Plank was active in many professional organizations, but according to Dr. Gower, "Of all her affiliations at the time, Plank felt most at home with the Publicity Club of Chicago…. By the time she joined in the early 1950s, PCC had an established tradition of performing skits at its annual President's Dinner," where Plank wrote and performed. She was an active member and in 1961 she planned and coordinated the Club's 20th Anniversary Dinner for more than 300 attendees. That night she also received the Pub-Clubber Award given to the single-most valued Club member of the year.
Plank's career in PR is filled with notable firsts. The most relevant for PCC members was Plank's 1963 election as the Club's first woman president. Five years later, she was elected president of the Chicago Chapter of PRSA, the first woman to hold that office. And then in 1973, she became the first woman to chair the national PRSA in its 25-year history.
Dr. Gower's book covers Betsy's early years and through her time as executive vice president of Daniel J. Edelman, Inc., her work in the corporate world as director of PR planning at AT&T, and then assistant vice president of external affairs at Illinois Bell.
But it was her fierce dedication to students and young professionals, as well as her vision of PR's leadership role in organizations, that distinguished and endeared her to mentees and colleagues alike.
The Plank Center for Leadership in Public Relations
Betsy Plank bequeathed her estate to her alma mater, the University of Alabama. In 2005, the university's board of trustees established the Plank Center for Leadership in Public Relations. The center is committed to "empowering and advancing the next generation of emerging leaders in the profession through mentorship, programming, education and fostering meaningful connections."
According to its website, "activities include awards and recognition programs, scholarships, speaker programs, publications, scholarly and professional papers, workshops and symposia, research grants, and histories and papers of leaders in the field." An annual awards dinner, held in Chicago, attracts students, academic scholars, and professionals to honor Betsy Ann Plank and the people who carry on her legacy.
# # #
To read more about Betsy Plank's inspiring life and career, visit the webpage for Karla Gower's book, Betsy Ann Plank: The Making of a Public Relations Icon.
Author's sidenote: Reading Karla Gower's book on Betsy Plank, I was delighted to learn we had some things in common, although I never met her. We both went to high school in Pittsburgh, got our start in radio, went to Boston University [she attended, I received a master's in PR there] and were PCC Presidents! Oh, and one more thing: we both believe "The primary mission of public relations is to forge responsible relationships of understanding, trust and respect among groups and individuals—even when they disagree."
In addition, I've included reminiscences from several people who did know her to share with our PCC audience. Enjoy these anecdotes!
---
Kevin Saghy Remembers Betsy Plank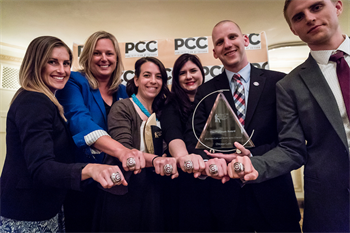 Kevin Saghy pictured second on the right after he and his colleagues took home the 2017 Golden Trumpet Awards Platinum Award for their work with the Chicago Cubs. Kevin is currently Head of Audience Engagement, The Ohio State University
Both as a student leader and then a young professional setting roots in Chicago, I was awestruck at the influence Betsy Plank had on the public relations industry. She reeled me in as one of her closest deputies while I served as PRSSA national president, and the action items kept flowing once I moved into town. She became a close personal friend, and without much thought, we soon just referred to each other as family.

Betsy's generosity helped me in more ways than I'll ever know. When I'd travel from small-town Ohio to Chicago for interviews, she would host me at her apartment, which was quite a credibility booster during small talk before a formal interview.

When Betsy first hosted my wife (then girlfriend) Stephanie socially, we went to her boat at Burnham Harbor for lunch and cocktails. Steph was well aware of Betsy's successes and she was prepared for a buttoned-up, formal engagement. Betsy must have been able to tell, as she asked to take pictures together and insisted we wear red clown noses for the shot. I'm not sure why Betsy had red clown noses on hand, but it completely lightened the atmosphere and she became fast friends with Steph that day.

More than a dozen years following her passing, my reverence and respect for Betsy has only grown. As I sit in board meetings for the Plank Center for Leadership in Public Relations, I remain awestruck as a group of our profession's most respected leaders continue to channel Betsy's values for our most important decisions.

Betsy shared that she "just wanted to be an example to those she leaves behind" shortly before her passing. Recognitions like this from the Publicity Club of Chicago will help ensure Betsy's last wish remains true for generations.
---
Driving Ms. Betsy: Erin Gardiner Remembers Her First and Best Mentor
Erin Gardiner is currently Executive Director/Head of Global Communications for Novartis Gene Therapies
When I first moved from Michigan to Chicago with a fresh communications/public relations degree, my mom suggested I reach out to our old family friend, Betsy Plank. Betsy, my great aunt, and their husbands had been close friends, including building matching vacation homes near South Haven, Michigan.
While I was skeptical that Betsy and I would have much in common as we were a couple generations apart, I quickly understood not only had Betsy been in the same field I was entering, but she had helped shape that very profession. I had no idea as a kid that Betsy was a luminary in the field and a Chicago PR icon!
We also realized we could help each other in a different way: I had a license, but no car, and Betsy had a car but didn't drive. So, what started as a mutually beneficial arrangement — I would take Betsy to her vacation retreat and head further down the road to see my family — quickly turned into marathon mentoring sessions.
From the minute we set off until the time we pulled into the driveway; we would talk about public relations. It started with an easy question about what I was working on and would quickly become a master class in the best strategic approach to whatever I was encountering. Betsy taught me by asking questions, guiding me to arrive at my own answers only after we had thoroughly discussed the topic at hand. I would give anything for another car ride with her, and often think fondly about one of my first and best mentors, the indomitable Betsy Plank.
---
Ron Culp Finally Took Betsy's Advice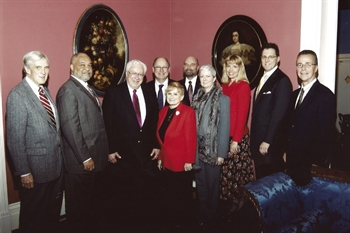 Ron Culp is pictured on the far right of this photo which captures the founding Plank Center Board members at the President's residence at the University of Alabama. Ron is currently the Professional Director of DePaul's Graduate PR and Advertising Program and is an Emeritus Member of Plank Center Board of Directors after serving 12 years.
Shortly after my arrival in Chicago nearly 40 years ago, I was "adopted" by Betsy Plank. She quickly became a great friend and turn-to mentor.
Betsy was especially effective and persuasive in enlisting like-minded public relations professionals to do more than we may have bargained for when we joined organizations like the Publicity Club of Chicago and Public Relations Society of America. Along the way, she enlisted me to speak at several meetings of the Public Relations Student Society of America (PRSSA). After each speech, she urged me to become a teacher.
From preferring a manual typewriter and fax machines over computers to her ever-present Kodak Instamatic cameras, Betsy preferred the old-fashioned way of doing things – including building deep, long-lasting relationships.
Although personally resisting technology, she was intrigued with its potential for communication. When I started writing my career blog, Culpwrit, Betsy asked me to print out a few blog posts for her to read.
In the same voice as a popular FedEx ad at that time, she insisted: "You absolutely, positively need to be a teacher." Knowing what teachers were being paid at the time, I smiled and told her I'd stick with the more lucrative corporate world.
Betsy died on May 23, 2010 and I decided shortly afterwards to start teaching. I have long regretted not being able to tell her that I finally took her advice more than 30 years after she first suggested doing so.
Ron Culp is a veteran public relations professional who held senior positions at Eli Lilly, Pitney Bowes, Sara Lee, and Sears before heading the Chicago offices of Sard Verbinnen and Ketchum. He became professional in residence in DePaul's award-winning Public Relations and Advertising program in the fall of 2010. Betsy recruited Ron to serve on the founding board of the Plank Center for Leadership in Public Relations.
---