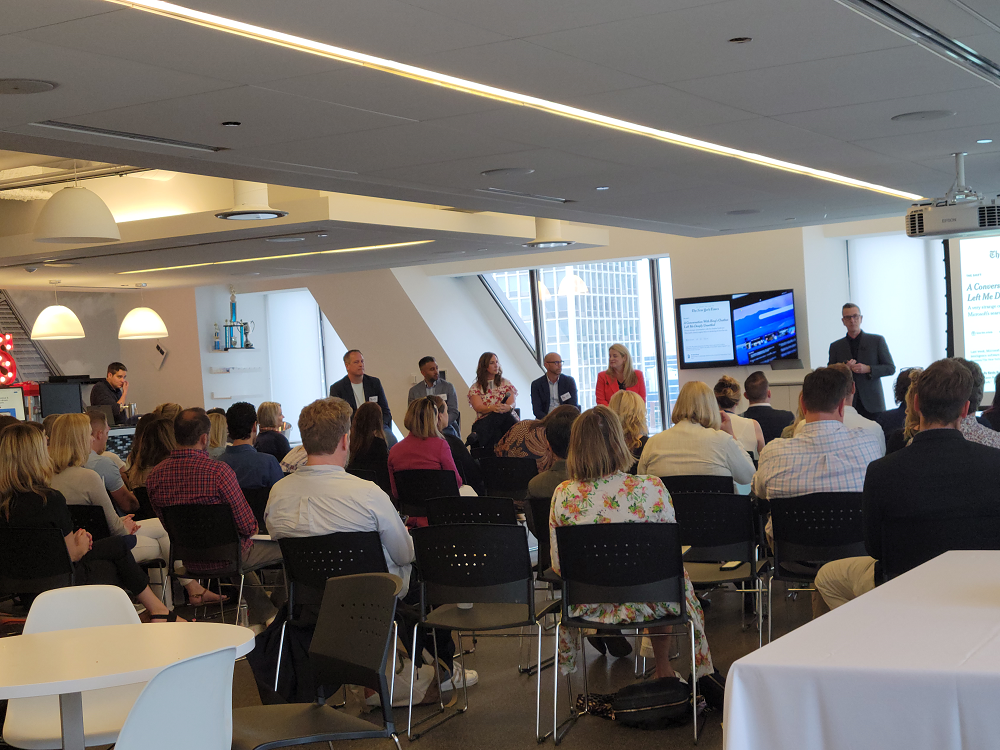 By Dominic Calabrese, Past PCC President
PCC members and guests kicked off the summer season at a special Cocktails and Conversations Networking reception on May 23.
The event, which took place at Carlucci's Chicago, 400 E. Randolph, drew a near capacity crowd, including several PCC past presidents and board members.
Highlights included a special appearance by PRophet founder and Stagwell Comms Tech CEO Aaron Kwittken who was on hand to answer questions about the pros and cons of artificial intelligence (AI).
Kwittken, whose company also sponsored each attendee's first, and then second beverage, gave a preview of a more in-depth discussion on AI, which took place at Golin's headquarters on June 14.
The June 14th event, entitled "The Eye on AI: The Promises and Pitfalls of Artificial Intelligence in PR," examined what AI means for the communication industry. Serving as hosts were PRophet, CommPRO and Golin.
PCC played a prominent role in promoting the event and Club President DeRondal Bevly along with several other PCC members attended.
Offering their perspectives was an expert panel of technologists, digital strategists, social impact professionals and brand reputation experts. In addition to Kwittken, the panel included Golin's global digital president, Jeff Beringer; Golin Chicago's digital leader Amit Wadehra; Golin's Social Impact + Inclusion managing director Laura Sutphen and McDonald's senior director, communications Molly McKenna Jandrain. Serving as moderator was Golin chief strategy officer Paul Parton.
"Artificial intelligence can offer tremendous opportunities to PR professionals as well as our society while at the same time posing some significant risks," Kwittken observed as he set the theme for the discussion.
The panel noted that on the upside, AI tools and technologies can inspire creativity, streamline workflows and enhance our work. Citing one example was Jandrain.
"AI has helped McDonald's re-design our restaurants, create new menu items and develop other ways to better serve our customers," Jandrain said.
The panel also acknowledged the downsides posed by AI. While new toys, for instance, can be powered by artificial intelligence, those same toys can collect data on children's behavior, preferences and even their voices. That data, in turn, can be exploited by hackers for predatory purposes or by the manufacturing company for marketing research purposes, and parents may not be aware of how it is being used.
Panelists emphasized that for all its pluses and minuses, AI will play an increasingly important role in the years ahead and we'll need to get a handle on it to ensure that this still evolving technology will benefit society.
###
---