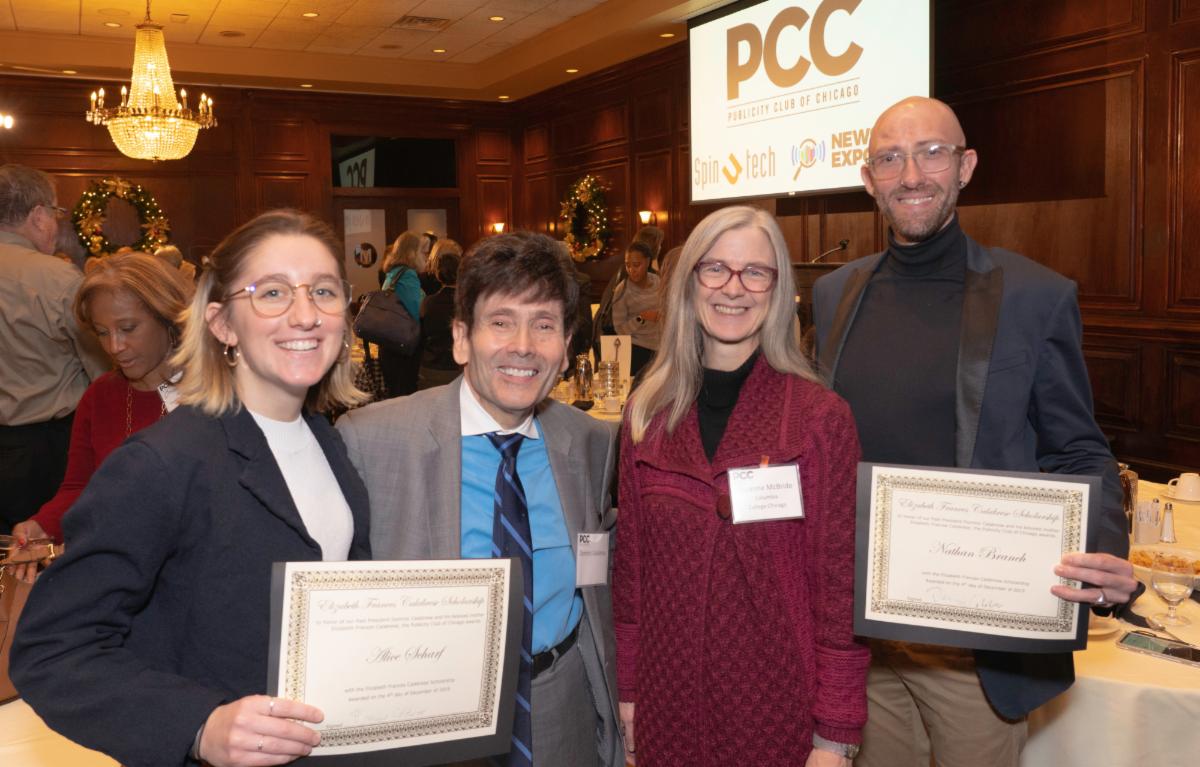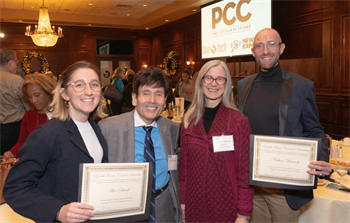 Previous winners of the Elizabeth Frances Calabrese Scholarship Award for outstanding PR students are shown celebrating in December, 2019. Left to right are co-recipient Alice Scharf; Past PCC President Dominic Calabrese; Columbia College Chicago Communication Department Chair Suzanne McBride; and co-recipient Nathan Branch.
To celebrate the 30th Anniversary of the landmark Americans with Disabilities Act (ADA), which the nation observes this month, Immediate Past PCC President Dominic Calabrese is establishing a $5,000 annual scholarship award at Columbia College Chicago to benefit students who are blind or have other disabilities. Scholarship recipients will be recognized in partnership with the Publicity Club of Chicago.
Starting this September, the Elizabeth Frances Calabrese Memorial Scholarship, named in honor of Calabrese's late mother, will be open to deserving Columbia students with disabilities who are earning a B or better in any academic area and can demonstrate financial need.
The recipient of PCC's 2019 Lifetime Achievement Award, Calabrese established the club's first ever scholarship program in 1986. An adjunct Columbia professor, he is also sponsoring an additional $5,000 scholarship award at Columbia for outstanding students in the communication and public relations fields.
"My mom had a very kind heart and would always try to donate money to assist people who are blind whenever she could," Calabrese said. "I know she would be very proud of this scholarship which will help students who are disabled come closer to realizing their dream of a college education, which is something she never had an opportunity to pursue."
Current PCC President Jim O'Reilly thanked Calabrese for his generosity and noted that the scholarships are in keeping with the club's commitment to public service. "We are delighted to present these scholarship awards to Columbia students as PCC continues our long standing tradition of giving back to the community," O'Reilly said. He also thanked Columbia for being a strong supporter of the club by partnering on a number of key initiatives like the annual Career Day event held each fall which brings together Chicago area employers and students to discuss job opportunities in public relations and other fields.
Further details about the scholarship will be announced later, on both the PCC and Columbia websites.
For more information or to become more involved with PCC's Scholarship Committee, please contact Tweed Thornton at 773-463-5560 or office@publicity.org.
---