Duplicate Golden Trumpet Awards Order Form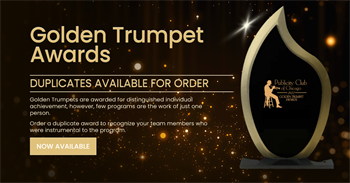 Golden Trumpets are awarded for distinguished individual achievement, however few programs are the work of just one person. Order a duplicate award to recognize your team members, clients and other individuals who were instrumental to the program. You can choose customized text for the inscription on the duplicate award.
Member Rate: $175
Non-member Rate: $225
Specialty Award Rate $250
-Please use one order form for each additional award you would like to order.
-Please complete the entire form as your award will be engraved exactly as indicated. PCC is not responsible for any misspellings.
-Please type your information carefully.
-Each additional duplicate award requires a separate order.
-You will be invoiced after placing your order.
-After paying your invoice, a duplicate of your winning 2022 Golden Trumpet Award will be sent to the individual of your choosing within 6-8 weeks.
-If you have questions, please contact PCC Executive Director Tweed Thornton at tweed@publicity.org.