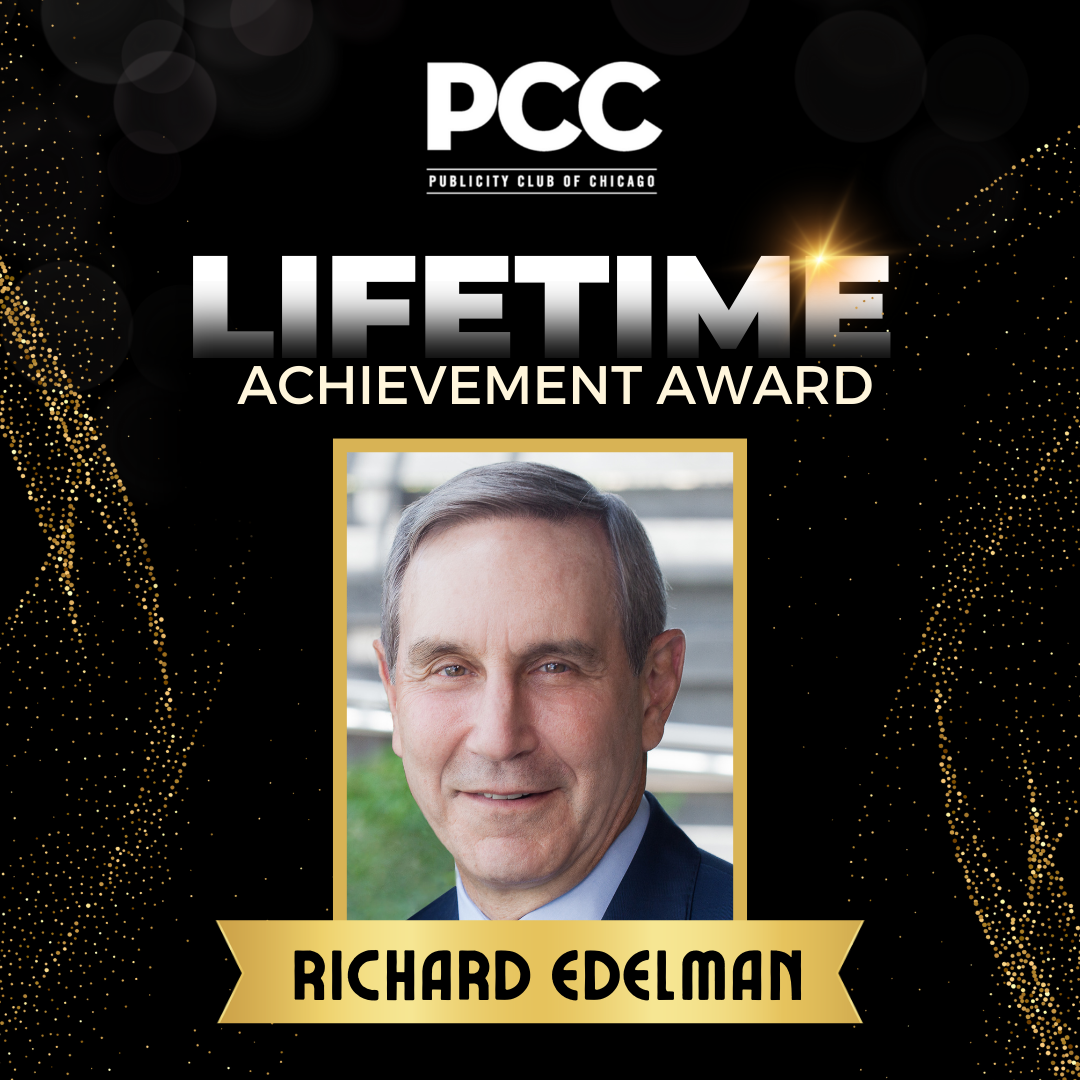 Chicago, IL — September 21, 2023 — The Publicity Club of Chicago (PCC) proudly announces its selection of Richard Edelman, CEO of Edelman, for the esteemed Lifetime Achievement Award, a crowning accolade to be presented at the 65th Annual Golden Trumpet Awards. This distinguished event will take place on the evening of Wednesday, October 4, 2023, at the Winter Garden within the Harold Washington Library, located in the heart of downtown Chicago.
Under Richard Edelman's visionary leadership, Edelman has ascended to the pinnacle of the communications landscape, earning the distinguished reputation of being the world's largest and most influential communications firm. Edelman's transformative impact on the industry is a testament to his unparalleled innovation and remarkable creativity.
"Richard Edelman's enduring contributions to the communications field are truly exceptional. His pioneering spirit has not only propelled Edelman to unprecedented success but has also shaped the entire industry," affirms PCC President DeRondal Bevly. "We are exhilarated to celebrate his remarkable achievements during the 65th Annual Golden Trumpet Awards."
Expressing his appreciation, Richard Edelman shares, "Receiving this award means the world to me. I am a son of Chicago, a Bulls and Bears fan with Midwestern values of hard work and decency. I am so proud to continue the 71-year legacy of the family business with my sister Renée and brother John, and now all three of my daughters at Edelman and Zeno."
This tribute holds a special significance as Edelman's affiliation with PCC traces back to the early days of Daniel J. Edelman's association with the organization, coinciding closely with the inception of both PCC and Daniel J.'s illustrious career. Notably, Edelman's corporate journey has been interwoven with the contributions of former PCC Presidents and esteemed members such as Betsy Plank. A poignant connection was established when the Publicity Club of Chicago bestowed its inaugural Lifetime Achievement Award upon Daniel J. Edelman in 2003, a recognition that resonates with the ongoing legacy of excellence.
About the Publicity Club of Chicago
Since its establishment in 1941, the Publicity Club of Chicago has been the professional home for individuals in the communications, marketing, and public relations domains. Over the span of 65 years, PCC has been at the forefront of acknowledging outstanding achievements within these industries through the prestigious Golden Trumpet Awards, which stand as a hallmark of distinction in the Midwest. More information about the Publicity Club of Chicago and tickets for the 65th Annual Golden Trumpet Awards Ceremony taking place on Wednesday, October 4 can be found at publicity.org.
#####
---